The first thing I did when I learned Maplus became the new US Ski Team rollerski supplier was to fire off an e-mail asking to get a pair of Maplus rollerskis to review. Maplus happily obliged by sending a pair of Maplus Speed rollerskis
Maplus rollerski are made in Italy and distributed in the US and Canada through Innovation Incorporated.
I subjected the Maplus Speed to a wide range of skiing conditions, include dry pavement, wet pavement, puddles, leaves and sand, and on a wide variety of pavements: smooth, bumpy, cracked, plus the occasional wooden bridge.

The Maplus Speed 530mm wheelbase is short and maneuverable
The facts
The rollerskis reviewed are the Maplus "Speed" ski, model no. MSK0025. Maplus has two other "Speed" models: the MSK0027 "Skate Touring" and the MSK0029 "Skate Training", both with a longer wheelbase of 600mm. (There are also the 530 mm Flash skate models and the Easy, Twin, Progress, Tris, and Tris Jr. 700mm classic rollerskis models).
| | |
| --- | --- |
| Maplus Speed MSK0025 | "Skating light training" |
| Frame: | "Patented frame in a special super light alloy highly resistant to dynamic stress " |
| Wheelbase length: | 530 mm |
| Wheel diameter: | 83 mm |
| Wheel width: | 27 mm |
| Weight: | 2.2 lb/pair (without bindings) |
The Maplus online catalog says the MSK0025 "is particularly suited to competition."
Maplus has not gone with the crowd. Instead of using 100mm x 22mm wheels, the Speed is outfitted with 83mm x 27mm wheels. A little smaller, a little wider.
Unlike the Blue wheels pictured in the Maplus catalog, Maplus provided next season's Black wheels. Going forward all MSK0025 skis will have these new Black wheels.
The skis felt very light to pick up and very light under foot.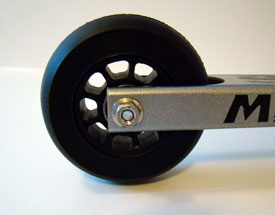 Stability
I felt very comfortable on the Speed at all speeds. The rollerskis felt very stable, even on downhills and corners. Balance was never an issue. The smaller wheels seemed to give it a slight edge in stability over the skis with 100+mm diameter wheels such as the Pursuit T6002. Ski-Skett Shark, Pro-Ski S5e, Elpex F1, Marwe 610, or Jenex 100SR (see all rollerski reviews and comparisons).
Ride
I thought the smaller wheels would provide a little rougher ride over the 100mm-wheeled rollerskis, but I really did not notice much difference. I'm guessing the extra width soaks up the bumps.
I also expected a few more problems rolling over twigs and rocks but again, did not really see much of a difference over the 100mm-wheeled skis. I was still able to roll through leaves, bits of sand, and gravel with relative ease.
Wide gaps in the pavement were a bit noisy, with a distinct clunk as the rear wheel rolled over the gap. Make sure your weight is not forward when hitting a big gap. Clearance between the bottom of the shaft and bumps on the trail is good – I never bottomed out.
Speed
Says Rick Weissenborn, the distributor for Maplus, "They are definitely fast, the athletes in the US Nordic Combined Championships at Lake Placid were rolling upwards of 70km/h on the downhill portion of the course, pretty exciting to watch to say the least." (The competition was held without snow. Maplus supplied rollerskis to ensure competitors were on same-speed rollerskis. Johnny Spillane won, with Billy Demong and Todd Lodwick also on the podium).
Zoom zoom - These babies are fast! I have a fixed-distance trail I used for intervals that climbs gently uphill. Normally, an interval takes me around 4:20 to complete using my Pro-Ski S3's. The Maplus Speed consistently took 30-40 seconds off that time.
I also did some Zone 3 intervals (race pace or a little slower) over mixed terrain. You can build up to very high speeds if you V2-Alternate on gentle downhills. Less experienced rollerskiers will get a little nervous by the speed. Experienced rollerskiers will get a thrill.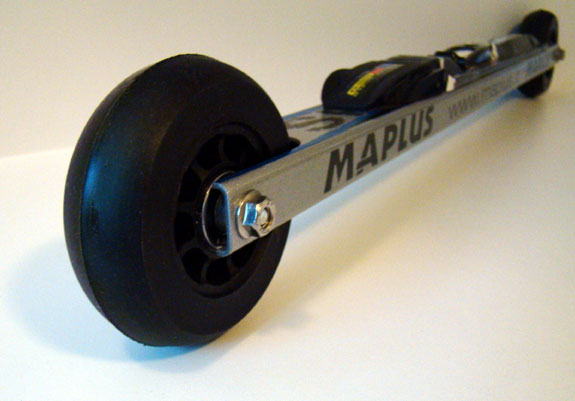 Profile of the 83mm x 27mm Maplus Speed wheel
Safety
Speed reducers are not currently available for the Maplus Speed. (They are available for the Easy and Twin classic models, however).
I was able to snowplow fairly easily. For those of you who have never tried snowplowing on rollerskis: it requires a very wide stance. And watch for leaves and sand!
The short length of the skies makes them highly maneuverable around obstacles.
The Maplus Speeds handle wet pavement well. But like other rollerskis, beware wet painted lines! Leaves could also be bad. I found that a strong but short skate push gave me better grip. Long pushes to the side with less down pressure were more likely to slip.
Staying dry
Splash guards are only available for the Easy and Twin classic models, but fenders are are now in the works for the Speed and should be available as an option next season. Since I rollerski in the rain and on wet pavement, this will be a happy option.
Bottom Line
I had a great fun skiing on the Maplus Speed MSK0025. Skiers looking for a fast ski for easy distance sessions. And if you want to put the hurt on your training partner...
This is a good ski for uphill interval training. For racing and interval training over rolling terrain, you'll want to be comfortable rollerskiing at high speed. Adding speed reducers will help those who get nervous when the pavement starts flying by in a blur.
Skiers wanting a slower ride might try the Maplus Easy or Twin models. They come with soft natural rubber wheels, but have smaller and wider wheels. Maplus is working on a softer durometer wheel for the Speed, but they are not yet available.