This weekend American's premiere cross country ski race series, the FIS SuperTour rolls into Mt. Itasca in Coleraine, MN for two days of competition. While the premiere events of the weekend are the two ten-kilometer races that make up the SuperTour (freestyle on Saturday and classic on Sunday), the races also serve as a Central Collegiate Skiing Association qualifier for the NCAA Championships, and Saturday's race is a Junior Olympics qualifier for this year's Junior National Championship competition in Houghton, Michigan. In addition, this weekend also happens to be a celebration of the 100-year anniversary of the Mt. Itasca venue. Thus, in addition to the SuperTour action, spectators can witness both ski jumping and Nordic combined competition following the cross-country events.
Mt. Itasca is a unique venue for its quite challenging race course that also happens to be very spectator-friendly. Both ten-kilometer competitions will repeat the five-kilometer loop twice. This loop begins with a very challenging, steep climb out of the stadium and to the top of Mt. Itasca and ends with a series of fast, technical descents and turns. Spectators can easily view racers at five locations on the loop without much running back and forth and without interfering with the athletes. The set-up also works perfectly for coaches desiring to give splits and videotape their athletes on course.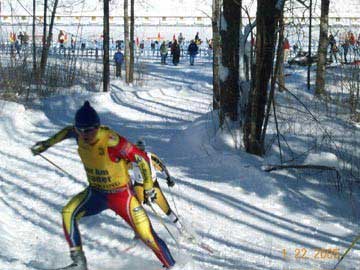 2005 SuperTour champion Ivan Babikov
beginning a long climb at Mt Itasca
Race director Gene Elkin reports that snow conditions at Mt. Itasca are quite good, and athletes should expect to be able to use hard wax for the classic race. More than half of the ten-kilometer race takes place on a loop with man made snow used for early season training, so this portion of the course has a very deep base covered with natural snow. The remainder of the course has ample natural snow and measures have been taken to preserve this section of course in the best possible condition for the weekend. All grooming that has been done on the course to date has resulted in a surface that should be excellent for racing.
With the Olympic Team named and the Olympics looming on the horizon, the SuperTour field is taking on a slightly different shape. While neither the men's nor the women's SuperTour leaders will be present, a number of other athletes will be on hand, hoping to earn some cash and work into the leaders' bibs. Top entrants among the men include former World Championships Team member Dave Chamberlain and just named Olympian Justin Freeman. Also planning to contend are Zack Simons (runner-up at last week's Madison sprints) and 2005 American Ski Marathon Series Champion Dave Stewart. For the women, most of the Madison SuperTour's top entrants have made their way north for another weekend of competition. Kate Whitcomb of team FSx and Maine Winter Sports Center, Erin Hood of Alaska Pacific University, Caitlin Compton of the Subaru Factory Team and Go! Training, Anna McLoon of Atomic and Go! Training, and Muriele Hueberli of Rossignol have all returned for another weekend.
The presence of CCSA athletes will add another dimension to the competition, especially in the women's field. The top-two University of Alaska-Fairbanks skiers Pavla Havlova and Johanna Turunen both earned top-ten at U.S. Nationals and thus should be in the mix with the top women. Should Northern Michigan University enter either of their newly named Olympians Lindsey Weier or Lindsay Williams, they will contend for podium positions.
Given Coleraine's northern location, this SuperTour has also drawn a number of top Canadians, giving the event an international flavor. Canadian Shayla Swanson, now training with Bridger Ski Foundation, is entered, as is Prince George's Jacqui Benson. For the men, expect to see Canadians Gordon Jewett, Jeff Ellis, Skeets Morel, and John Rennie.
The next stop on the SuperTour will be the following week for a thrilling three day event at Telemark Resort, Cable, WI.
All the SuperTour details can be found on www.cxcskiing.org.