Tired of small pockets that can't hold enough stuff, I went looking for roomier compartments. The Ultimate Directions Solitaire came through. The cargo compartment can hold just about everything you need. The version I bought is not longer available, but a similar model with some additional features (the Solitaire HHS) can be purchased.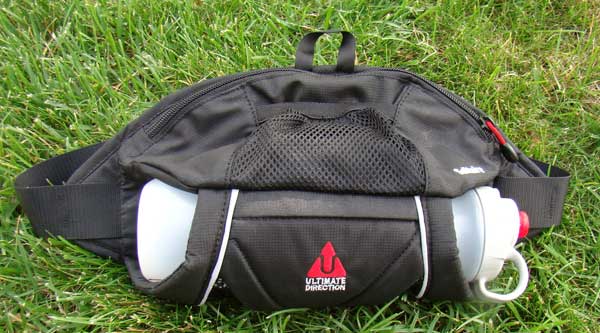 The Ultimate Direction Solitaire holds the water bottle horizontally. The position is very stable when skiing or running. Above the bottle is the main zippered cargo compartment. In front of it is a smaller pocket.
The water bottle is the same as described in Part II. I'm still not impressed.
It's not too hard to reach behind and pull the water bottle out. Putting it back it takes a couple tries.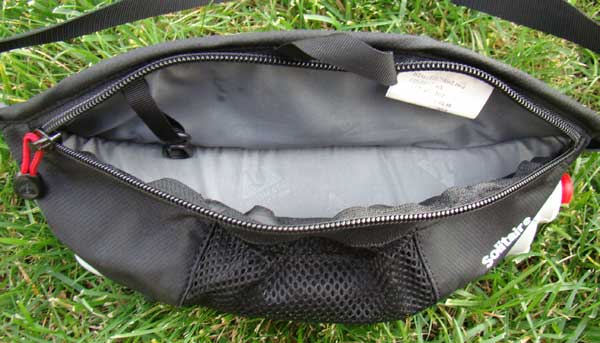 As you can see above, the main compartment is huge and has a key holder.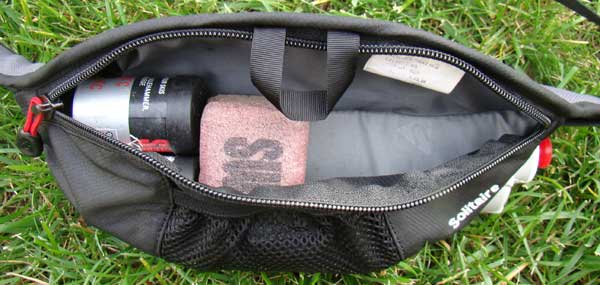 Even after putting in two tins of wax and a cork, there's tons of room left for a camera, phone, food, jacket, whatever. Even my Droid X fits. Even though the compartment is big, it's still doesn't look like at touring pack.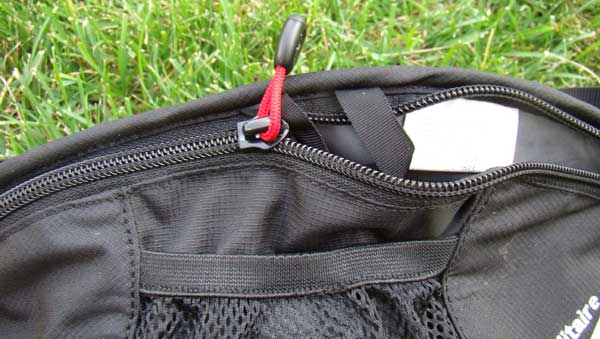 One minor quibble: The loop attached to the outside of the pocket tends to fall into the pocket. When you try to zip it close, the zipper gets stuck on it. Why is that loop there anyways? To hang from a peg on the wall? Seems useless. I cut it off.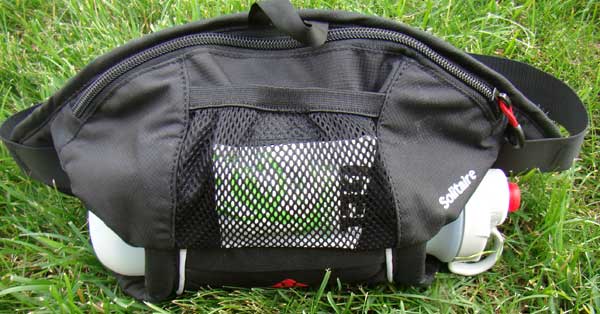 In front of the main compartment is a small pocket just right to hold a couple Hammer Gels or a small set of keys. The top is elastic, and there's Velcro in the center that closes the pocket to the main compartment. Nice.
When trying to access the pocket, you of course want to pull the belt around so the pocket is in front. This is not so easy: the long water bottle simply doesn't want to rotate around your hip. The best method is to pull the belt up above your hips as you rotate it.
I find myself using this belt anytime I classic ski or anytime I want to carry a camera or phone.
My model has been replaced with the Solitaire HHS, below: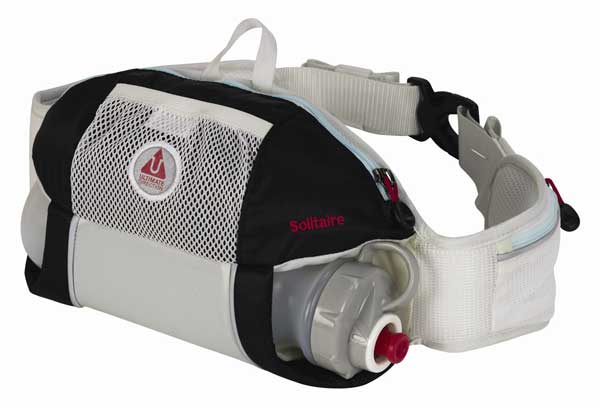 It looks like the front pocket is a little bigger, and there's a new side pocket on the belt. I'd be happy to try one out if some one sent me one...