Adrian, Michigan, July 13, 2006 – On Saturday, July 29, 2006 the 3rd Annual "Race for Hope" was held at Hidden Lake Gardens to help support the fight against cancer. Volunteer employees from Wacker Chemical Corporation, the event sponsor, organized and coordinated the overall event. Last year we had about 80 participants. This year we had a great turn out with 99 runner/walkers. We anticipated a few more late registrations from runners but the hot and muggy morning may have influenced them not to come out and register. We only had two pre-registered people that did not show. We raised over $2,200.00 this year.

Race results
here
.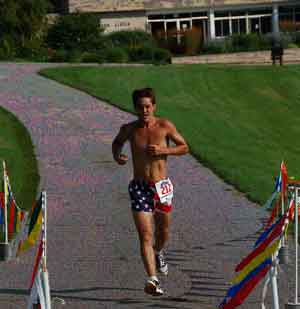 The run and walk started at the foot of the Hosta Hillside, then pro-ceeded past the Visitor Center and finished out front of the visitor's center. It is a lovely paved path. There were sections where the sun was scorching but the shaded area gave some relief. Volunteers in bright yellow tee shirts took on the serious task of recording the time each person crossing the finish line. Information for each runner / walker was keyed into the a computer prior to race day. New regis-trations were keyed into a lap top computer and a high speed printer was brought out to the site to provide computerized results. Hidden Lake Gardens provide an air conditioned conference room and a place for a Massage therapist to perform chair massages.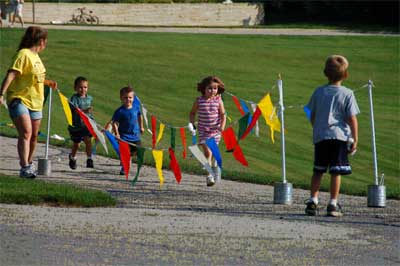 A manual system was maintained for timming and awards and the computer was also used for results. In this way the no mater what happen to the power or computer we still would be able to produce results. The show must go on. We had some difficulties distinguish-ing between the time of the runners and Walkers. We had a national race walking champion and some other pretty fast walkers in the pack. This was an issue that will be easily corrected with having the distinguishing category on all the registration forms and a special mark on the bib tab. We were able to produce a print out for every-one to take with them at the time of the awards. Completing the awards within 1 hour and 30 minutes from the start of the race and within 30 minutes of the last walker was not bad, but our results team is confident that they can do much better next year. This year we had a kid's fun run for 5 years and under starting at a line drawn in chalk proceeding past the time clock and through the finish shoot. The participants received a small beach ball and a teddy bear. They had fun.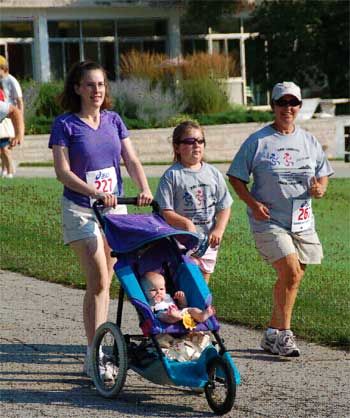 We found a nice spot, well the runner & walker found the shady spot so we brought the award to them. Gifts donated, were given in ad-vance to awards. A consultation with Custom Interiors in Tecumseh for Merillat Cabinet makers was offer to those that had an interest. There were three people interested, so a number was recorded and each interested party selected a number from 1-10. The target num-ber was 6 and the gift given to the person that was the closest. The names of all people participating in the walk or the run were put into a box. Four names drawn to receive a $30 voucher for an individual annual membership at Hidden Lake Gardens. The individual voucher can be applied to a $40 family membership. Memberships are donated by Hidden Lake Gardens and event sponsors.

We wish to extend special recognition and gratitude to all those individuals and businesses that are making this fund raising event possible. All proceeds will go directly to "Relay for Life." An organization dedicated to fighting cancer and ultimately reaching toward its ultimate cure.
Thanks and recognition to:


To all those runners and walkers who demonstrated their commitment for this rapidly growing and important fund raiser.

To all the volunteer from Wacker Chemical Corporation and volunteer workers especially Cheryl Rittenhouse at Hidden Lake Gardens who are graciously volunteered their time and facility.

To those businesses that offer sponsorship: (Alphabetically) Adrian Mechanical Service, American Aqua, American Interi-ors, Armstrong Mechanical Service, Avery Oil & Propane Inc., Basil Boys, Carpenter Warehouse, City Limits Diner, Evans Street Station, Hidden Lake Gardens, Krieghoff of Lenawee, Lenawee Sanitation, M.R.D. Graffix, Prime Mechanical Inc., Pure Par-Fection Golf, R. A. Hackett Plumbing & Heating, Raisin Township Fire department, Running With E's, Saun-ders & Son Co., VM Systems, Wacker Service Organization (WSO), Worksphere Occupational Medicine.

We are hoping to see you at Hidden Lake Gardens again next year on July 28, 2007. Bring a friend or two. With your support, we can make it happen!
Wacker Chemical Corporation is the North American based head-quarters for WACKER SILICONES, WACKER POLYMERS and WACKER FINE CHEMICALS business divisions of Wacker-Chemie GmbH.
For further information, please contact:
Wacker Chemical Corporation
Manager, Corporate Communications
Tel. + 517 264-8239
Fax + 517 264-8175
bill.toth@wacker.com
The company in brief:
WACKER is a globally active company with approx. 14,700 employees generating annual sales of EUR 2.5 billion. WACKER has 20 production sites worldwide and a global sales network of over 100 subsidiaries and offices.
Siltronic
Hyperpure silicon wafers and monocrystals for semiconductor devices
WACKER SILICONES
Silicone fluids, emulsions, rubber and resins; silanes; fumed silicas; thermoplastic silicone elastomers
WACKER POLYMERS
Redispersible powders and construction dispersions, solid resins, polyvinyl butyrals
WACKER FINE CHEMICALS
Custom sythesis, fine chemicals, biologics and additional biotechnical products
WACKER POLYSILICON
Polysilicon for the semiconductor and photovoltaics industries