I'd always wanted to do triathlons, but couldn't run because of some knee-related muscle problem. I wasn't until just a few years ago that I accidently discovered my knee problems were caused by doing leg curls in the gym.
Then last year, egged on by Ryan Robinson and Yvon Dufour, a quartet of NordicSkiRacers (Greg Worrel, Yvon, Ryan, and me) decided to enter a couple sprint triathlons. Who can't swim half a mile, bike 12.5 miles, and run 5K?
Four weeks from the first event, we hit the water to make sure we could actually can stay afloat for half a mile...
Two months later, two triathlons under my belt, I had the tri bug.
It started with a wet suit...
I saw an ad about a sale happening at Bike Sport in Dearborn a couple months ago. I wanted to get a good wet suit and headed down to see what they had. Well, they not only had nice wet suits, they had a store full of bicycle eye candy. A triathlon specialty store, Bike Sports carried many of the leading triathlon bikes and it was hard not to take a look.
Thoughts of tri bikes stewed for the next couple months until I couldn't stand it anymore. I brought the topic up with Jill:
"What? A tri bike? When would you ever use it? It's too specialized. Where would you put it? There's not more room in the garage."
All good points. But were not talking about reason here. We're talking about emotional attachment! Within two weeks, we had negotiated an understanding and I was free to head back to Bike Sport.
Initial fitting
I had thought about buying a used tri bike from E-bay but decided I didn't have a clue about how a tri bike was supposed to fit. I heard good things about Bike Sport (as well as Cadence Cycle in Saline - highly recommend by NordicSkRacer and triathlete Spencer Ruffner). Bike Sport was closer.
The first step was to call for an appointment to get measured. Bike clothes were mandated because the measurements would be off wearing thicker street clothes.
I arrived, changed into bike clothes, and headed toward the measuring tape. And measured I was:
Several inseam measurements, using tape and the spring-loaded device in the photo below.
Length of the femur (measuring inseam to floor from a kneeling position)
Length of torso (a couple different ways)
Shoulder width
Arm length
Length of elbow to end of fist (for tri-bar extension length)
Length of fist (for tri-bar bend)
Foot length
A couple key ratios:
Inseam to torso length, used for determining cockpit length and frame height
Inseam to femur length, used for crank arm length
Several others which I didn't get written down....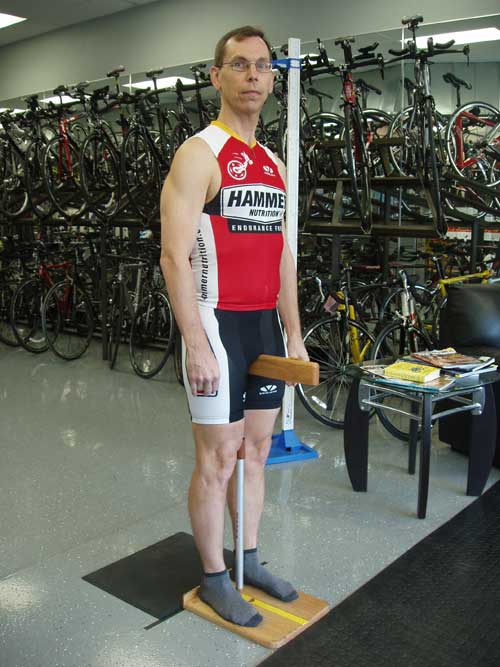 Hmmmm...there are so many possible captions for this picture. I'm actually having my inseam measured - honest!
Tom Demerly explained exactly what he was doing, how he was doing it, and why he was doing it. He paid careful attention to the measurements, record each on a form, then entered each into a computer program.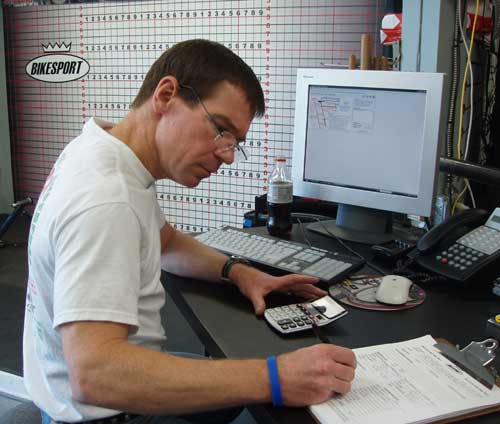 Tom, recording and calculating my stats, then inputting them in to his computer
From what I could tell, Tom would normally recommend a bike based on his calculations. When, in passing, I mentioned I had my bike in my car, he said "Bring it in!" Pedaling away in front of a camera, Tom took several still shots that he displayed on a TV. I went through another set of measurements. This time, the measurements were taken from the displayed picture.
Tom would first draw lines between various joints, then measure the angles. For example, the recommended angle between upper and lower leg is 140-145° while the foot iss at the bottom of the pedal stroke. I was at 142.5°.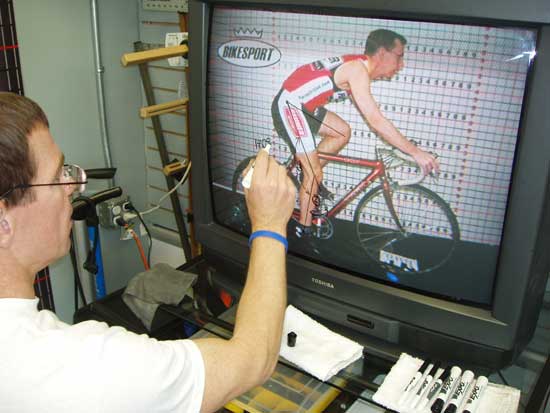 Using my existing bike, Tom drawes line in preparation to measuring angles.
Measuring my angles on my existing road bike
By the end (and several additional measurements later), he said whoever had fitted my on the bike had done a pretty good job. (Thanks to Jeff at Kinetic Systems in Clarkston!)
But checking the fit to my existing bike was only part of the process. Knowing that my bike fit me, he could double check his measurements: he compared the actual dimensions of the bike with his calculations from my original measurements.
| | |
| --- | --- |
| | |
| Measuring seat height from pedal axle center | Measuring from saddle to a perpendicular line down through the center of the bottom bracket |
What did he find? First, his calculations suggested the seat shold be 1 mm lower than on the bike. Second, he asked me if I thought my 172.5 mm crank arms were too long or too short. I answered that, if anything, they were too long. His calculations put me at closer to a 171 mm crank arm.
He also asked other questions like: Did the cockpit feel too long or too short? The handlebars too wide or too narrow?
Finally, it came down to a bike recommendation. Given how much I wanted to pay, what tri-bike would best fit me? A Felt B12? Cervelo P2C? Kuota K-Factor? Or maybe a Quintana Roo Seduza?
Based on the extensive triathlon bike reviews I read on the Bike Sport and other web sites, I figured he would recommend one particular bike over the others, given my short legs and long torso body. And I guessed right.
I pulled out my check book and bought the bike (on sale!). I'm just waiting for them to put it together and adjust it in preparation for the final fitting.
So what bike did I get? You'll have to wait until I actually get it. Stayed tuned to Part II...