I didn't even look at the weather reports the morning of the Ryanman. It was nice outside as I drove over to Ryan Robinson's house at 10am, and I choose to be optimistic that yesterday's forecast of rain would be wrong. But 25 minutes before the official start time, the heavens opened and we were treated to a hard but short rain.
The Ryanman is a half-Ironman or 70.3 distance triathlon (named for the sum of the three legs: a 1.2 mile swim, a 56 mile bike ride, and a 13.1 mile run). The Ryanman adds a fourth leg: the post 70.3 party! In fact the start time was specifically chosen so we'd be finished around 6:00pm in time for the hoards of friends to arrive for several hours of festivities.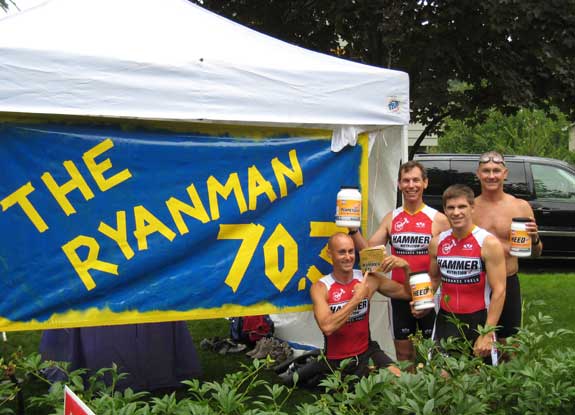 Four Team NordicSkiRacers would participate in the event. Ryan and I finished the entire distance, Steve Kuhl did the bike, and Greg Worrell put in a great effort during the party.
The Ryanman started three years ago when Ryan, frustrated that registrations for all the Ironman-distance triathlons were closed, decide to organize his own informal Ironman-distance triathlon. It was a great event, although a mix-up in feeds, a bike crash and the hottest day of the year forced Ryan to abandon 19 miles into the run.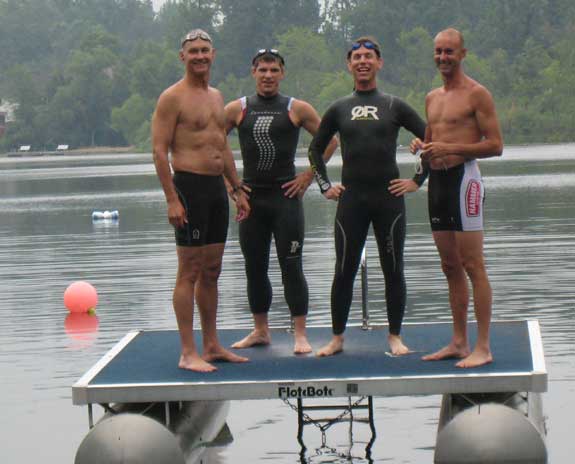 Several people either swam, biked, or ran with Ryan during the event. Since then, the Ryanman has turned into a 70.3 event, distances that more people could do without extensive training. This year, four of us did the swim, eight did the bike, and 14 did all or part of the run. The party? 60 people - at least.
At 11:08, we were finally organized enough to walk the two blocks from Ryan's house to Darb Lake to begin the 1.2 mile swim. Ryan had set up buoys in an out-and-back pattern. We would swim three laps to complete the distance. Master swimmer and sprint specialist John Irwin would do a quick 100 yards than laze around until the rest of us caught up, then sprint off again. By the half way point, both he and Ryan left Mike Kotajarvi and me in their wake. At the end of the second lap, Mike swam pass me and all attempts to catch him failed. I pulled into the beach dead last.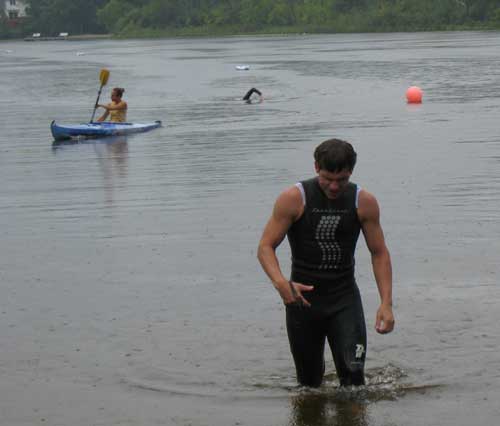 The spectators and two kayakers (Michelle and little Ryan Robinson) were soaked by another hard rain during the middle of the swim.
56 miles by bike
The four swimmers gathered and headed back to the house. Our T1 transition was...leisurely. After putting on shoes, helmets and gloves, and mugging for the photographers, we headed out for two laps around Orchard Lake in West Bloomfield.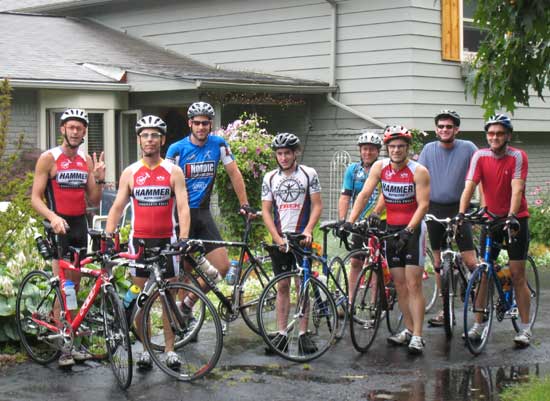 The roads around Orchard Lake were sopping wet and busy. This was one bike ride where riding point had definite advantages: no wheel spray in the face. Ryan started out, but Steve Kuhl and I both fought to take the lead so we could avoid the additional soaking.
Once the two laps were complete, we headed west toward Milford, the rain having stopped and the roads starting to dry. Tim dropped off (he was on a mountain bike). We rode as a group, slowing or stopping if someone was caught by a stop light. But some little climbs into Milford caused trouble for a couple riders. As we headed up GM Drive, a long climb to the GM Proving Grounds, there was a shakeout. Scott Sr., Mike K., and John were dropped.
The lead four continued clockwise around the perimeter of the Proving Grounds, as did Scott Sr. and Mike K., but John turned clockwise and disappeared the other direction. Only later at the party did we find out he took a shortcut to a coffee bar in Milford for a fortifying shot of espresso before heading home.
Steve "The Wall of Kuhl" frequently took the lead (Bless you my son). Steve is tall and strong, and provides a formidable wind block for anyone riding behind him. Get down on your aero bars and Steve's draft can pull you UP some easy hills!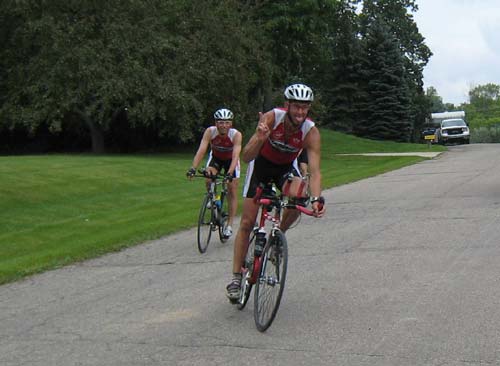 With just four of us (Steve, Ryan, Scott Jr., and me), the paced picked up a bit, helped by a small tailwind. We had to make one detour toward the end of the ride because of road construction, but we ended with just slightly more than our intended mileage.
13.1 miles in running shoes
The T2 transition was also leisurely - another 13 minutes. While we were feeding, changing into running clothes, and wiping the sweat and dirt from our faces, Mike K. and then Scott Sr. rolled in. Neither had planned to do the run. But another 11 had shown up just for the run, including a state champion high school girl. Ryan, also a track and cross country running coach, had invited several of his athletes...
The run consisted of 4 different loops, all starting and ending at Ryan's house. Some runners did one loop. Ryan's athletes did three. Three of us completed all four loops, but not without issues.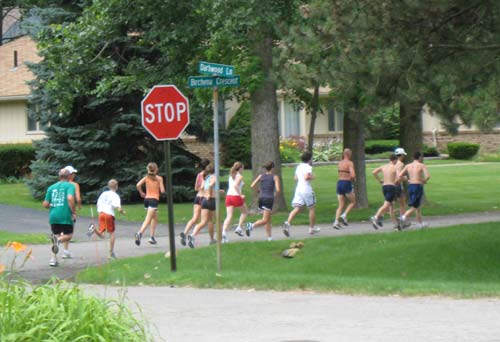 The first lap was a bit fast for the two of us who had already swum and ridden. I was at running at 82% of my max heart rate before I dropped back from the lead group for a more sane pace. Then the second group reached and passed me - that group included Ryan's son Ryan. I kept running just fast enough so I could see someone ahead of me, because I had no idea where the loop led.
At the end of the first loop, we paused to recoup, feed and hydrate. Ryan said he had run at close to 85% of his max the first loop, and wanted the second loop to be much easier.
Maybe it was. I held on longer this time - I had to! It was a longer loop and again, I had no idea where I was. As soon as we reached a road I recognized, I dropped off the back so fast that the lead group lost sight of me. (They stopped and waited to make sure I knew the way. I waved them on...)
The third loop started with a walk. Ryan was hurting! And when we waited at crosswalk for traffic, he was really hurting. The cross country team was allowed to run ahead, but Ryan couldn't run, so we walked the next four miles and onto the fourth loop.
By this time, the balls of my feet were hot and starting to blister. I run on trails as much as possible, but this run was almost entirely on pavement. Good thing the next section was over trails in Marshbank Park. With about 2.5 miles to go, we started running again. I figured with Ryan hurting, I'd be able to keep up. Wrong. It was a struggle. I may run the same cadence, but he runs with a much longer stride.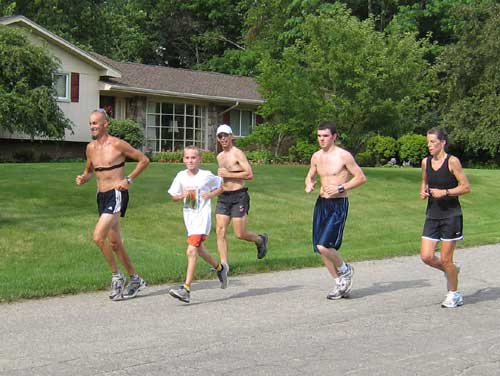 I held on as we finished off the park and ran the final 3 short loops around a block in his neighborhood. I was quite ready to quit at the finish...
Party on!
Ryan has a great pool with a waterfall in the back yard. The priority now was to jump in the pool and start relaxing.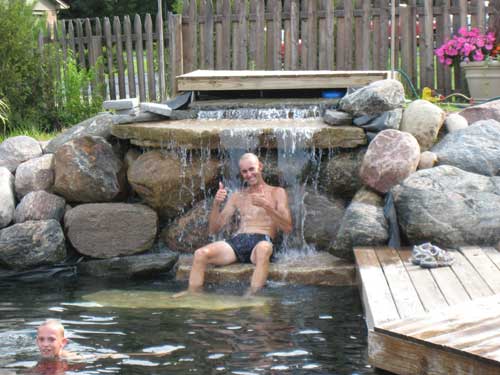 I dived in, hung out under the waterfall, had a beer (for recovery purposes only), then stuffed myself with pizza and these great little chicken nugget thing that Michelle Robinson had prepared for the athletes. I had to leave for an hour to take care of some chores at home, but before I left, the pool was full of kids and the deck full of partiers.
Upon my return, NordicSkiRacer Greg Worrel arrived. We both did our best to devour all the food in sight. Ryan gradually recovered but wasn't able to consume anything more solid than watermelon until close to 10pm. Greg and I made up for him.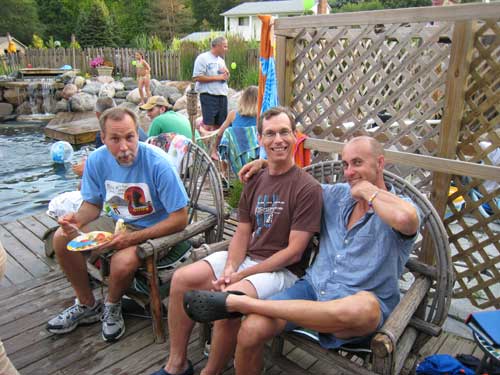 The Robinson know how to put on a great party! By midnight, however, the party had pretty much calmed down and I headed home for my beauty sleep...
Related:
All photos by Erica and Mike Kortajarvi
More photos from the Ryanman