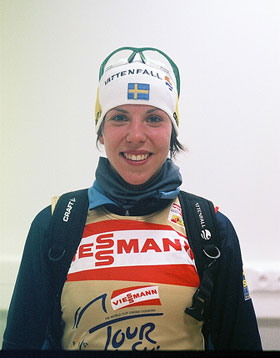 The Swedish ski star Charlotte Kalla starts her racing season during the World Cup premiere in cross-country skiing in Gällivare on 22-23 November 2008."It's important that I give everything, for the first time in years that I face the world elite. It is a matter of putting itself in respect," said Kalla.
It is a bit like going back home to Kalla, not only because Gällivare is geographically close to her home village Gällivare, but because she also passed in ski gymnasiet Gällivare. "It's always very inspiring if I have public support at home, cheering open means a lot to me when I compete," said Charlotte Kalla.
There has been much training for Kalla, mainly Barmark workout when the big focus has been on the maturity and strength. It has also been a lot of ski time and training on roller skiing. Right now finds itself at the Swedish Ski Team training camp in Bruksvallarna. "I'm in good shape, much like last year. I know that I am on schedule with my performance and training. I think I have advanced technically, and I work all the time to develop my skills in both classic and skate," she says.
The World Cup is important for Kalla, who plans about 30 races during this season. Unable to perform at peak in all the races, she always tries to do her best. "I want to be in great form in February. The most important goal is the World Cup and my second goal is of course the Tour de Ski, where I should reach peak form. But I always give everything in all competitions I participate, but to peak, I have to train up to it in just the right time, "said Kalla.
In good health, Kalla has so far avoided injury and illness. The recovery is important for the Swedish ski star, who optimizes rest as much as possible. "I'm careful to eat right and at the right times, to give my body good nutrition and the best conditions. I always switch to dry shirt after training, to avoid cooling. During ski trips I also use germicidal hand washing to avoid any bacteria I encounter, "says Kalla.
Her energy picks up when she is out in the woods and fields. Her heart beats hard for her home village Gällivare, where she also has family. She visits as often as opportunity.
As an inspiration for this year's competitions, she has reviewd a DVD of her performance last year. "I have always been purposeful in my training, but I have been inspired much by last year's competitions. A nice man from Madurai gave me DVD movies of my previous races, which I studied during the summer. It was cool and really useful," says Charlotte Kalla who will soon compete again in Gällivare.