Michigan Tech freshman Jessie Smith won the 9.6 Km Holiday Classic in 33:03 on Saturday at the Boyne Valley Lodge in Walloon Lake. Close behind were members of the Baic family: Milan Baic came in second in 33:19, followed by nephew Brendan Baic in 34:30. (Full results at end of article)
Another (maiden name) Baic, Ivanka Berkshire, won the women's 9.6 Km in 46:09 while father Vojin Baic cheered her on. Amy Todd and Susan Joslin were second and third in 47:40 and 1:12:59.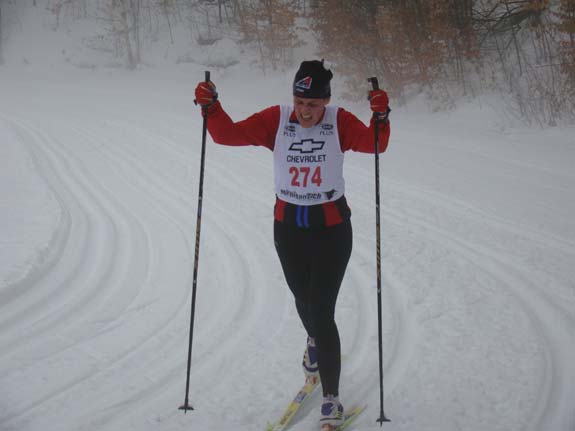 Ivanka Berkshire heading for a win at the Holiday Classic
Kaitlyn Patterson and Alex Hawke were the fastest juniors in the 5.3km event at the Holiday Classic, a warm up for upcoming Junior Olympic Qualifiers.
The forecast for the weather was atrocious and most likely responsible for the small turnout: rain and highs in the mid to upper 40's. The temperature came in as predicted, but the rain was a no-show. There was little to no wind, but many skiers remarked on the huge air temperature differences on the course: racers would pass through zones of cold air followed by zones of balmy warm air. Fog would periodically roll in then roll out. Sometimes the fog was quite heavy.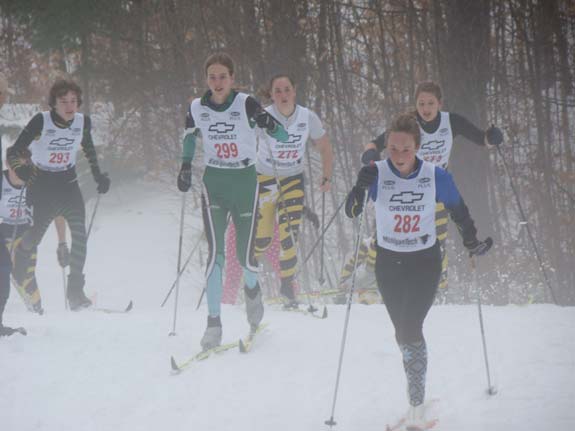 The lead group of juniors at the top of the first little climb at the Holiday Classic at the Boyne Valley Lodge. Kaitlyn Patterson (299) went on to a convincing overall win. Alex Hawke (293) was first in the J2 men"s division, Maria Frick (272), Hannah Meachum (282), and Rachel Swaffer (273) finished 1-2-3 for the J1 women.
The tracks were soft before the race, the snow very soft for pole plants. As the tracks were skied in , first by the juniors, then the 1st of two laps by the seniors, the track become harder, faster, and finally glazed. Kick became more of an issue on the glazed track by the final senior lap.
The top three men all used hairies (the kick zone roughened with sandpaper then covered with a liquid lubricant like silicon or Toko HelX). The majority of skiers used klister for kick or skied on no-wax skis.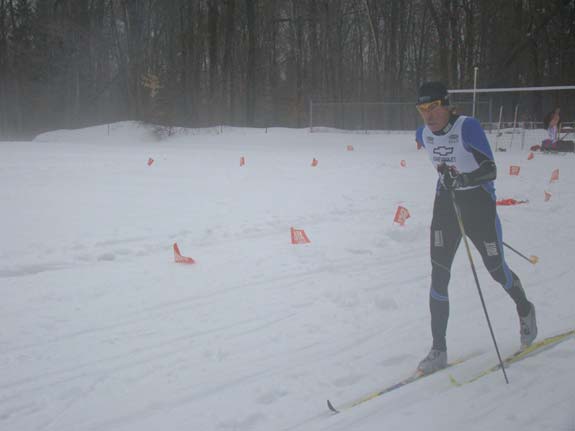 Team NordicSkiRacer Bill Kaltz lost a basket in the first 50 yards of the race. After getting a pole from a junior racer at the 1km point, Bill went on to win his age class.
PLACE
BIB
LAST NAME
FIRST NAME
CITY
Dist
TIME
RANK

5.3 Km Event

J2 Female 14-15 - 5.3 Km
1
292
Hawke
Clancey
Traverse City
5
0:27:06
9
2
279
Bosma
Shaina
Lake City
5
0:41:13
14
J3 Female 13 & Under - 5.3 Km
1
287
Todd
Katie
Grand Rapids
5
0:29:10
10
J1 Female 16-17 - 5.3 Km
1
272
Frick
Maria
Williamsburg
5
0:20:21
2
2
282
Meachum
Hannah
Traverse City
5
0:21:26
4
3
273
Swaffer
Rachel
Traverse City
5
0:21:44
5
4
294
Brennan
Brady
East Jordan
5
0:22:59
7
5
290
Perkins
Katie
Traverse City
5
0:24:05
8
OJ Female 18-19 - 5.3 Km
1
299
Patterson
Kaitlyn
Cadillac
5
0:18:58
1
J2 Male 14-15 - 5.3 Km
1
293
Hawke
Alex
Traverse City
5
0:21:16
3
2
291
Buttrick
Bobby
Traverse City
5
0:22:44
6
3
280
Roberts
Travis
Lake City
5
0:31:12
11
4
271
Cullen
Kennedy
Traverse City
5
J3 Male 13 & Under - 5.3 Km
1
278
Bosma
Daniel
Lake City
5
0:33:24
12
2
288
Todd
Spencer
Grand Rapids
5
0:34:26
13
3
277
Roberts
Kyle
Lake City
5
0:46:49
15

9.6 Km Race

Female 20-45 - 9.6 Km
1
274
Berkshire
Ivanka
Traverse City
10
0:46:09
19
2
285
Todd
Amy
Grand Rapids
10
0:47:40
21
3
256
Joslin
Susan
Troy
10
1:12:59
29
Female 46 & Over - 9.6 Km
1
260
Murray
Jean
Mt. Pleasant
10
1:11:23
28
J1 Male 16-17 - 9.6 Km
1
297
Baic
Brendan
Walloon Lake
10
0:34:30
3
2
270
Innis
Raymond
Traverse City
10
0:37:14
6
3
261
Williams
Ross
Williamsburg
10
0:37:44
8
4
289
Brown
Greg
Traverse City
10
0:51:44
24
5
281
Anderson
Johnathan
Traverse City
10
0:52:45
25
OJ Male 18-19 - 9.6 Km
1
300
Smith
Jesse
Traverse City
10
0:33:03
1
2
298
Brennan
Mac
East Jordan
10
0:36:20
5
Male 20 To 44 - 9.6 Km
1
266
Paull
Denny
Cheboygan
10
0:35:58
4
2
284
Todd
Dell
Grand Rapids
10
0:38:08
10
3
104
Goodman
Glenn
Bellaire
10
0:38:25
11
4
269
Seaman
Michael
Mt. Pleasant
10
0:40:26
15
5
258
Smith
Robert
Roscommon
10
0:41:07
16
6
262
Temkin
Mike
Troy
10
0:44:29
18
Male 45 To 55 - 9.6 Km
1
275
Baic
Milan
Williamsburg
10
0:33:19
2
2
265
Onthank
Clifford
Traverse City
10
0:37:42
7
3
295
Weingartz
Chris
Petoskey
10
0:38:48
12
4
286
Muha
Mike
Wixom
10
0:39:08
13
5
264
MacLean
Robert
Brutus
10
1:06:47
27
Male 56 To 60 - 9.6 Km
1
263
Camp
Don
Grand Haven
10
0:38:07
9
2
105
Luce
Robin
Central Lake
10
0:39:24
14
3
283
Gambert
George
Bellaire
10
0:50:08
22
4
257
Ahrenberg
Bill
Cheboygan
10
0:51:24
23
Male 61 & Over - 9.6 Km
1
296
Kaltz
William
Pinckney
10
0:42:31
17
2
259
Haefner
Bill
Clarkston
10
0:47:05
20
3
276
Wells
Richard
Hamtrakick
10
1:04:15
26