Up at X o'clock on a Saturday, January 22: it can only mean I am going skiing. The doorbell rings at 5, and my luxury limo whisks me to the airport far earlier than I need to be there.
At Munich I picked up Hertz's smallest car, then the usual nail-biting, first-gear frustration with German autobahn traffic, before getting up to full speed (well, not quite: although this is Germany, my winter tyres are not supposed to go over 100mph) until I hit the Alps at Garmisch-Partenkirchen, where it started to snow.
The roads are slow and winding, and climb steadily all the way to the Tannheim valley: a picturesque village (but aren't all Tyrolean villages picturesque?) in a high-ish valley (1,100m, or 3,500'). The snow situation had been dicey: 6" when I looked at their website on Monday; 13" on Tuesday; 5" on Wednesday, and what looked like big pools of water in the webcam picture… You can guess the rest, but the races went ahead, I think on the original courses. Of course they have had 18" of snowfall in the two days after the race.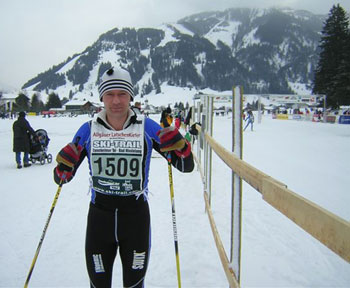 On arriving at the village, I took my classic skis out for a cruise, wanting to save my skating legs for the race. The snow was difficult: compacted damp new snow over sheet ice, with a dusting of powder on top. Another 6" overnight would mean I had perfect skis, but would make for a horrendous race.
After skiing, time to find somewhere to stay. The B&Bs in Austria display a sign saying whether they have space, and I quickly found a very nice one just 100yd from the start, an old Tyrolean farmhouse with a barn on the back half, where I could do my waxing (admittedly in freezing temperatures, but at least I had electricity).
And out for some good old Tyrolean fuel: meat, cream and butter in unhealthy proportions, with a sprig of parsley to lend some healthy colour to the whole. The fruit & veg ration supplied by apfelstrudel, and the whole washed down with the local wheat beer. And all this followed by another Tyrolean tradition: the musician strikes up, and all the finely-dressed middle-aged Tyrolean couples get up and start waltzing. It is clear from their competence that this is a regular activity for them. Despite my ethnographic fascination, I had to make up for this morning's early start and get to bed, under my 12" thick Tyrolean duvet.
Race morning was overcast, but nonetheless -12C. After breakfast, a jog over to the start and a chat with the Swix crew revealed HF7 as the wax. Back to the hotel to put it on, and a few mental notes to improve my waxing equipment (a brighter headlamp, for a start). I only managed to do one application before running out of time, so a quick change into my NordicSkiRacer.com suit for its first European outing, and out to warm up.
The skis felt good, and I went to enter the start pen, a little later than ideal, but some old-fashioned, bare-faced queue-barging brought me from the back of group 3 to the front of group 2, which was good enough on this wide track.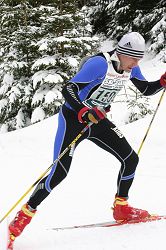 At the off, I had a reasonable start, and sorted myself into a group that seemed about right. In marathons I tend to start slow, and then get slower, so I have been trying to learn to be more conservative and start even slower - but skiing conservatively is much less fun than sprinting, as I remembered when I did two short time-trial races in Michigan at Christmas. And 30km is hardly a marathon...
Well, a few km in, the conservatism was going well, until a decidedly female race-suit passed me, and I had to choose between race tactics and manhood. I chose what any man would, and compromised my race plan.
The group broke up as we entered the more serious hills, and I passed her ladyship, never to see her again. My little group then dropped me (start slow, and get slower?) and I was alone until a chaser caught me and gave me something to hold onto.
Why is it that in a time trial I can ski like a berserker, while in these marathons I just cruise along and find myself unable even to maintain that pace, never mind raise it. I think the difference is in the head, rather than the difference in race length.
Anyway with 8km to go, I managed to convince myself that I could ski that distance pretty hard as a time trial, and started going a bit faster; with 4km to go I caught my old group; but that was the limit of it, and I was unable to overcome the disadvantage of slightly slower skis on the descents towards the finish. And these skis were so magical in the Michigan Cup race at New Year. Perhaps I need to allocate more time to waxing; or perhaps buy some more of that extraordinary HWK wax.
As I was returning from my warm-down, I heard some excitement from the announcer: a sprint finish in the 50km between a local racer and the well-known cheat Johann Muehlegg. Time for a change of topic.
Back to the B&B for a quick shower, some wax on my poor skis, compare notes with the landlady's four-year old grandson, who showed me a picture of himself in a ski race, and back on the road to the airport. Home by 9pm: not a bad weekend at all, for a Londoner.
Where shall I go next weekend?
More info on the the Tannheimertal Ski-Trail at http://www.ski-trail.com.