The 36th edition of the North American Birkebeiner was a Classic in many ways. After several years of marginal weather conditions the last two Birkie's have been cold powder versions, easy to wax for and easy to prepare the course. Last year the Classic Only trail section was added and this year it was expanded to 27 kilometers. Classic only waves were added this year, to the enjoyment of both classic and freestyle skiers. The Greatest Skier in the World skied the 2009 Birkebeiner, none other than Bjorn Daehlie, another Classic. And finally the race went off flawlessly, start, volunteers, aid stations, finish, as usual, another Birkie Classic.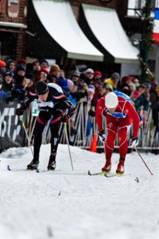 Kaeding & Daehlie Finishing Duel 50K Classic (Photo by SwixSport)
And the finish. Four of them in spectacular fashion. Three barnburners and a classic. In the 50K Freestyle, Matt Liebsch skied off the front with 17K to go and never looked back. He had a large enough lead to pick up his son from the crowd on Main Street and ski across the finish line with 43 seconds to spare, in 2:11:47. Team CXC teammate Bryan Cook was second and Canadian Dan Roycroft finished third five seconds back.
Fifteen minutes later, Coloradan and Olympian, Rebecca Dussault and Alaskan, Holly Brooks came charging up Main Street neck and neck. It looked like a repeat of Thursday's sprint competition. In the end Dussault's right foot narrowly edged Brook's left foot by 0.6 second although it looked closer than that. Sweden's Kristina Strandberg was third nine seconds back just two seconds ahead of last year's Birkie winner, Evelyn Dong.
Then came the 54K Classic finish. Marquette's Gus Kaeding realized his dreams. After skiing the whole race in a pack with the legendary Bjorn Daehlie, the two broke far enough from the pack to conduct a double pole duel all the way up Main Street, which Kaeding won by a mere 0.1 second. Even more remarkable was the third place finisher, a 60 year old Norwegian, Geir Strandbakke, less than a minute behind.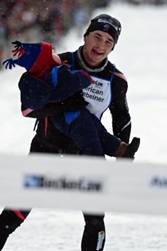 Liebsch Winning 50K Freestyle (photo by SwixSport)
Then came the Classic women. Martina Stursova from the Czech Republic put this one away early, skiing the Birkie in 3:26:16 almost seven minutes ahead of Hilary Patzer with Kelly Skillicorn just 28 seconds behind.
Top Michigan skiers were, Karl Walczak of Houghton 21st overall in the 50K Freestyle in 2:20, and former NMU captain, Maria Stuber from Marquette, 9th overall in 2:34. Jon Mommerts of Marquette was the first Michigan skier in the 54K Classic, 15th overall in 3:15 with Debra Laurie of AuTrain 43rd overall and top Michigan woman in 4:32.
Top Michigan Cup skiers in the 50K Freestyle were, Ben Lannin, 100th, Jim Harrington, 136th, and Ed Anderson, 198th. For the women it was Ann Wagar, 135th, Jean Van Dam, 136th, and Maria Iwaniec, 280th. In the 54K Classic top honors went to Denny Paull, 16th, Randy Bladel, 36th, and Tom Dvoratchek, 83rd. Lorraine Lund led Michigan Cup women in 55th, followed by Carole Mueller-Brumbaugh, 69th, and Marnie Sutter, 84th
Final count, second largest Birkie ever, 7,242 racers, 4,982 Birkebeiners up 6.9%, 2,260 Korteloppeteers up 9.0%. Classic skiers composed 24% of the Birkebeiner and 40% of the Korteloppet. Two years of good snow conditions makes all the difference in the world.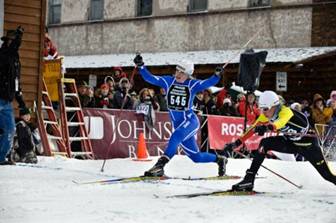 Dussault & Brooks Finish 50K Freestyle (Photo by SwixSport)
Forecast race temperatures were single digits all week, but the Swix wax recommendation was running warmer all week. Most of us wondered what they we re thinking. We woke up Saturday morning with temperatures in the upper teens, ending up in the low twenties in the afternoon. The pundits at Swix must have known something because they were right on. I was waxed colder with LF4 and it ran very well also. The only problem was an inch of new snow which proved to slow the tracks down considerably and with no forerunners the Classic leaders spent a good portion of the time in the skate lanes.
I skied the 54K Classic, after a wonder experience last year on the classic only trail. I was not disappointed this year. The additional classic trail is now extended to 27K past "OO". I think it is a milder course than the original skating course. It still rises to the same heights but the climbs are more gradual. I was originally in the sixth wave, complained and got moved up to the fifth wave. There probably weren't even 100 skiers in the wave so I lined up in the front row. From behind I heard my name and turned around to see Lorraine Lund four rows back. The gun went off and four of us quickly made a break from the front.
After a kilometer it was myself and another skier in the Finnish team suit. Spectators called him Ahvo and I soon realized that I was skiing with Ahvo Taipale owner of the Finn/Sisu shop in St. Paul, Mn. He was better on the uphills and I had the double pole, but we skied very close together, picking our way through the fourth and then third wavers. At about six kilometers my calf felt like it had a cramp. Not after six k's I thought. At ten kilometers a sharp pain shot through the calf and I decided to slow down and try to work it out. Ahvo skied away. A lot of the course is double pole and that helped. After 4-5 k's my calf started to feel bearable and I decided to see how far I could go. Dropping out of my 32nd Birkie was not what I really wanted to do.
At "OO" there was Ahvo at the aid station and I tried to sneak by, but when I looked back there he was. We skied together to the next aid station and I never saw him again. From "OO" to Mosquito Brook the course is predominately downhill and it suited my strengths better. BUT, then comes the payback. From about 35K on I started to feel an overall tiredness coming on. After Mosquito Brook, at 42K comes the first long hill of the last half of the race. I climbed it well and starting to think about Bitch Hill a couple of k's in the distance. It's longer than the wall in the Vasa, but no quite as steep.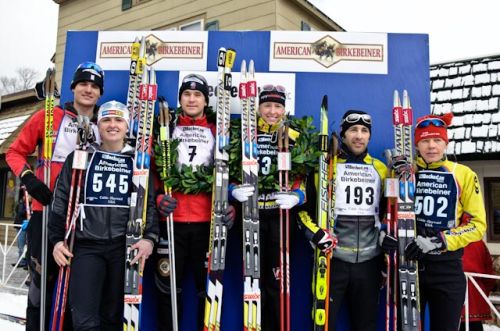 Freestyle Podium (photo by SwixSport)
A couple of ladies started dressing up as witches, hags, bitches quite a few years ago and yelled at skiers all the way up the hill. Skiers named it Bitch Hill and started looking forward to the "encouragement", masochists that we all are. Then one year there weren't any bitches on the hill. Everyone was depressed. In the Birch Scroll the next year we learned that the women had done the Korteloppet just to see what they were missing, and would be back the following year. They were back and you know, they were a lot nicer in their encouragement.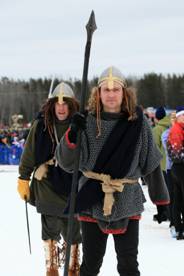 The Schaefer's as the Birkebeiners from two years ago. Michigan Cup skiers. (Photo by Mark Milford American Birkebeiner Ski Foundation)
The bonk was coming on so I walked Bitch Hill and looked forward to the next 3-4 k's with several nice downhills. The last big hill is right after the Highway 77 road crossing and the final aid station. It is a long one with seven pitches and two curves, that I have struggled on, walked and stopped on many times. Not this year though, I wasn't in great shape but I made it up without stopping and in fairly good form. From here on in there is one more uphill but it is a roller coaster, a very fast roller coaster and then one screamer downhill to the flats before skiing across Lake Hayward.
Lake Hayward was my downfall. The tracks weren't great having been set on snow that was trucked onto the bare ice. Plus the bear climbed on my back. Maybe a half K from the end of the lake another fifth wave skier sneaked by and I didn't the energy to respond. I had led my wave since "OO" and he pulled 45 seconds on me in less than a kilometer. I skied up Main Street to the roar of the crowd and clanging of cow bells, pleased with the race, glad that my calf had held up and mostly just glad to be finished.