"Wake up! Your alarm didn't go off!" my wife exclaimed as she pushed my shoulder. It was 5:20 am, 10 minutes before I was supposed to pick up Dan Motowski. I leaped out of bed, brushed my teeth, ran the razor once around my jaw, threw on some clothes, kissed Jill, and headed downstairs. After filling my water bottles and grabbing some pre-made sandwiches from the fridge, I jumped in the car for a 10 minute ride to Milford.
Dan wasn't the least perturbed that I was 15 minutes late. We just worried that Yvon would leave us - he'd set a strict "we're leaving at 5:45" schedule. And when we arrived at about 6:00 at the McDonalds on M-59 at US-23, we didn't see his car. As we cruised around the building, Yvon pulled up - he'd gone off the to commuter lot to see if we'd gone to the wrong place. Yvon was going to drive his van, but because Dan and I already had our stuff in mine, and mine was pretty unorganized, I volunteered to drive. By the time Yvon had moved his stuff into my van, I'd bought breakfast ("An order of pancakes and an Egg McMuffin, please").
So began our one-day road trip to the Holley Cup.
The ride north was very uneventful. I let Dan start driving about halfway up so I could escape into the back seat for a little nap. Dan and Yvon talked nonstop the whole way, both excited at doing their first race in years. I slumbered well enough that I felt refreshed by Gaylord - I just needed some coffee. With the excuse, "We'd better fill up now just in case," I was able to get a cup at the gas station as Dan pumped.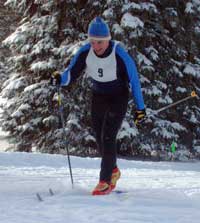 Mark Madorski racing up to the finish

Registration & Warm up
The Otsego Ski Club is easy enough to find - it's just east of Gaylord and well marked. There was a sign pointing to the "Ski Race" that directed us to take the left turn in the Club. So we did, but had no idea where to go next. There was a series of buildings but none had a sign saying "register here." And we were the first people there - we didn't see any other skiers. Several cars followed us in, then followed us back to some parking. We got out, walked around, couldn't figure out where we were supposed to be. We finally got back in the car, drove to the main lodge and asked directions. The receptionist sent us back to the same parking area, but pointed us to the wrong building. Eventually, we did see skiers walking in and out of a particular building and knew we'd found the right place.
Registration was cool. We talked to some people, showed off our new Team NordicSkiRacer racing suits.
It was about 7 degrees, no wind, and a light almost fog-like snow was falling. Humidity levels were high. Yvon was out on the snow first, already waxed for the conditions. He quickly returned.
"It's not green. Maybe green extra, but I think we're going to need something bluish..."
Dan waxed up the the appropriate Swix kick wax, me with some Toko, and we're off for a warm up.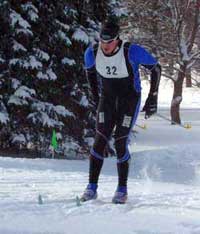 Dan Motowski in the new Team NSR racing suit.

The course was four laps around a 2.5 km trail. I skied the course as a warm up, talking to various teammates like Mark Madorski and Ken Dawson as well as folks from other teams that I hadn't seen since last winter. The course was nice. My skis' glide and kick seemed OK. I was a little worried I was going to be cold during the race - I was a little cool during my lap around the course and I had several layers on top of my racing suit.
With about 15 minutes to go, I did a few sprints up the short hills trying to get the legs loosened up and my heart rate closer to race ready. With 5 to go, I stripped down and got in line.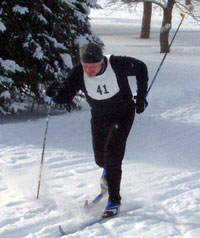 Steve Burgess, a new member of Team NordicSkiRacer!

You could see quite a bit of the course from the start line: a long downhill leading to a sharp left and an uphill; a short right and a downhill to the start area; a rise to the lap/finish area, a 180-degree turn to the left and a straightaway, a turn uphill to the right and the trail entering into a wooded area. The start area was a soft packed area between the lap/finish area on the right and the lap straightway going the opposite direction on the left. I was a little worried about losing a pole to the deep snow during the doublepole start - I wished I had on some bigger baskets.
The Race!
Denny Paull was on my left, Chris Wiengartz to the right when Race Director Nick Baic yelled "GO!" After a 100 yards, we turned sharply to the left to get on the trail. Everyone was surprisingly well behaved given the tight corner and potential for trying to push through. Must be the holiday spirit...
I'm playing the first lap conservatively. I tend to go out too fast and finish slow. Not today. I hold my own but don't try to pass people - yet. Yvon quickly passes me. He's either going to have a great first race or blow up!
I jump behind Cassidy Edwards as she comes by. On a gentle uphill, she moves to the left of the track and tries to pass people before the left corner at the top. I follow. Unfortunately, she's only gains enough distance to pass one person and I have to back off and get back in line where I was before. The next section of the course if flat, soft, and has a number of 90-degree turns. I pretty much hold my place.
We then come the biggest uphill on the course. Nick had groomed it quite wide, with tracks on either side and a place to herringbone up the center. The pack slows way down when we hit the hill. While everyone else stays in the tracks, I jump in the center and charge past just about everyone and was in the clear by the top of the hill. We turned to the left and went down on a nice downhill with a right curve at the bottom, followed by a short up and a curve to the left.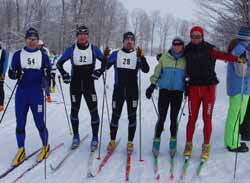 Dave Fanslow, Dan Motowski, Yvon Dufour, Natalie Dawson, & Ken Dawson mugging for the camera.

In a low tuck and staying in the tracks all the way around the curve, I made up some time on Cassidy, who had also charged up the last hill in the center. Through a flat section I stayed even with her. On a long downhill, I caught her, climbed next to her on the following up, then took off on the downhill into the lap/finish area, my speedy skis gaining distance on her the entire way down.
On the second lap, I pass Yvon. Guess he went out too fast. Cassidy catches and passes me on the same uphill I'd done so well on before. The tracks were gone - following skiers had herringboned them to death. Cassidy and I were both able to stride up it. I was out of breath at the top and Cassidy pulled away.
Until the downhills. Every downhill, I gained time. I pass her again near the same spot I'd caught her on the first lap and lead her into lap three.
Lap three was identical to lap tw Cassidy passes me on the uphill; I catch her on the downhill. It was obvious to me know that I was going too hard in the first half of the lap. By the time I was to the big hill, I didn't have enough reserve to climb as effectively as I should. As we enter into lap four, I let Cassidy set the pace and I stay behind.
This time, when we got to the hill, Cassidy was in front. She started going up the center, only to have a lapped skier step in front of her from the left. I let her into the track and we climbed to the top. By not going all out on previous kilometer, I still had reserves left. We both had to take the downhill curve wide to pass a skier in the tracks - me worrying that he would go wide and take me out (he didn't). I had enough speed to pass Cassidy on the following uphill. With my faster skies, I was able to doublepole away on the flats and downhills, hold my own on the last uphill, and beat her to the finish.
This was a race where my wax job made a difference. I'm not sure I could have held on to Cassidy if she had skis as fast as mine.
I talk to Cassidy briefly then head for my camera to take pictures of the remaining finishers. When I return to the finish area, Yvon has come in just a few seconds behind teammate Ken Dawson - an awesome finish for his first race! Dave Fanslow and wife Joann Cavaletto are also there, as well as Natalie Dawson. Mark and Dan cross the finish line shortly.
Yvon, Dan, and I head back out for a ski and talk about the race. Dan "my skis seemed fast yesterday so I didn't rewax them for the race" complained that his ski were really slow. We traded skis.
Dan's skis were dogs. I mean big, furry, slow dogs. Great kick though...
We skied for a couple laps, then Dan went to change while Yvon and I did one more lap. By the time we finished, everyone was gone from the finish area - we thought we were going to be late for the awards ceremony!
Team Points
We drove over to the Special Events Building for the awards. Waitresses were serving water, coffee and hot chocolate. Just as Nick posted the results, brats and chili were served as well. Natalie had won the women's 5 K, I end up with 5th in the 10 K. Dan starts converting places to Michigan Cup points. A small field and lots of team members present added up to a lot of points (see the table at the bottom of this article).
At the end of the ceremony, I'm the only person who hasn't changed clothes. I tell Yvon that he can drive while I change in the back seat. Yvon's totally psyched - he can't stop talking and ends up driving the whole way down south...
Team NordicSkiRacer has a very successful first race of the season.
Wax of the day
Glide wax: Toko System 3 Blue (hydrocarbon), Solda F15 Blue, then Solda S30 powder. Zoom! What I like best about this combination was the very low breakaway speed - these skis glided easily at all speeds - there was no drag at low speeds.
Kick Wax: Some Rex Green as a base, then a couple thin layers of Toko Blue.
Unofficial Michigan Cup Points Results for Team NSR...

5 km Classic Race - Team NSR Women

CLASS

Overall Rank

MI Cup Points

Last Name

First Name

City

Time

Female 19 To 30

1

200

Dawson

Natalie

Farmington Hills

0:19:56

Female 41 To 50

5

180

Cavaletto

Joann

Ann Arbor

0:25:12

10 km Classic Race - Team NSR Men

CLASS

Overall Rank

MI Cup Points

Last Name

First Name

City

Time

Male 41 To 50

5

196

Muha

Mike

Wixom

0:33:14

Male 51 & Over

9

192

Dawson

Ken

Farmington Hills

0:34:34

Male 41 To 50

11

190

Dufour

Yvon

Brighton

0:34:39

Male 31 To 40

14

187

Fanslow

David

Ann Arbor

0:35:50

Male 41 To 50

20

181

Madorski

Mark

Leonard

0:40:20

Male 31 To 40

25

176

Motowski

Dan

Milford

0:43:29

Male 41 to 60
41
160
Burgess
Steve
Howell
0:46:00

Total:

1,662
Michigan Cup Team Points