Nordic Ski Team Scholarship established at GCC
Mon, Aug 31, 2009 - By Carrie Miljevich
A new scholarship has been established at Gogebic Community College in Ironwood, Michigan to commemorate the Nordic Ski Team's inaugural season beginning in the 2009-10 academic year. Mr. Karl Andresen, father of GCC's Nordic Ski Team coach Will Andresen, gifted funds to start the "GCC Nordic Ski Team Annual Scholarship" as a way to help recruit athletes and students to GCC who will participate in this new winter sport.

Ironwood's early and consistent snow and top-notch cross-country trail systems provide the perfect place for a young skier to reach their skiing goals. Pete Vordenberg, Olympic skier and Head Coach of the U.S. Nordic Ski Team, said about his skiing days in Ironwood, "Every fall I spent in the UP I would travel to Ironwood in the important early season to get on their early snow and great trails. Putting that time in up in Ironwood was not only perfect training but a real joy."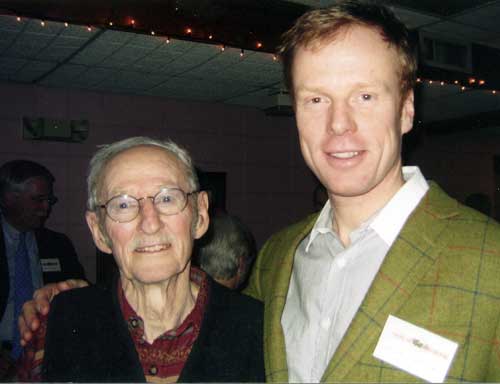 Birkie Founder, Karl Andresen, and Bjorn Dahlie, the greatest cross country skier of all time, celebrate at the American Birkebeiner VIP Dinner.

The Nordic Ski Team at GCC is the first of its kind at any two-year college in the country. The team, open to both men and women, will compete in Central Collegiate Ski Association races in addition to several citizen races. "I'm very excited about the opportunity to coach this new team and thrilled about the new scholarship which was established specifically to benefit Nordic Ski Team members. My coaching philosophy is to create individual training and racing programs to meet the specific background, talents and goals of each athlete and this scholarship will be a tremendous help to attract and retain cross-country skiers from around the country" stated Coach Andresen.

Coach Andresen was a member of the Northern Michigan University Ski Team, serving as team captain his senior year. While at NMU, he qualified for the NCAA National Championships and was the lead-off skier on the NCSA National Champion relay team. His father, Karl Andresen, is considered a "Birkie Founder" after skiing in the first thirty American Birkebeiner races, held each year in Hayward, Wisconsin.

For more information on the Gogebic Community College Nordic Ski Team Scholarship including ways to help donate to it, or for information on the new GCC Men's and Women's Nordic Ski Team, please contact (906)-932-4231 ext. 202. Information is also available by visiting www.gogebic.edu