It was perfect conditions for the 18th Annual Muffin Race at the Cross Country Ski Headquarters in Roscommon, MI on Sunday February 28, 2010. Temperatures were in the mid-30's and the sun played hide-and-seek with the skiers. Celebrating the "warm" weather, several male racers skied in swim suits only. Some female racers, in the spirit of spring skiing, wore their swimming suits over their racing suits!
The Muffin Race was divided into two races: the Senior Muffin for Michigan Cup racers and the Junior Muffin for skies 10 and under.
Senior Muffin Pursuit
The Senior Muffin consisted of a pursuit race. Racers first skied a 4K Classic course, quickly transitioned to freestyle equipment, then skied the same 4K loop again. The loop was the some course used by the Michigan Cup Relay: the combination of the Rolling Hills Trail and the Partridge Alley.
Jane Lively, Kaylee VanDomellen, Nadine Tueck and Ann Ward get into the swim of things before the Senior Muffin starts (photos by Bob Frye)
In the Girls 11-13 age group, Heidi Schwab finished first in 39:02, with Jane Lively taking second in 43:43. Keefer Edwards was the fast boy in the age class, easily beating the rest of the field in 32:19. Second was Even Scheiern and 37:40 and Lars Hallstrom in 38:39.
In the 14-19 age class, Maria Frick finished first in 29:30 - the 6th fastest time among girls and boys in the Senior Muffin. Jane Hinsenkamp was second and Kaylee VanDomellen third with times of 33:50 and 34:16.
Ross Williams had a close race with Ryan Harris. Williams won in 25:12, just 26 seconds ahead of Harris's time of 25:38. Gunnar Brammer was third in 27:16.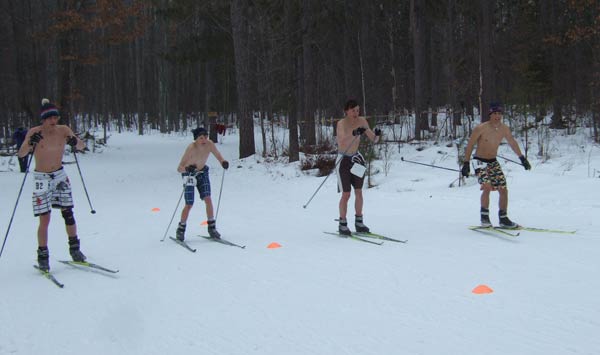 Beefcake Matt Heimburger, Josh Lance, ? and Ryen Keenan at the Senior Muffin finish.
Junior Muffin
The Junior Muffin was an untimed event. Avery Smitz and Bryn Patsey were the fastest girels in the 6 and under age class; Drew Taylor, Griffin Schwab and Alec Gardner were the fastest boys.
In the 7-10 age class, Anneka Hallstrom, Kelly Klettner, and Emma Schwab were the fastest girls; Grant Smitz, Max Bernard, and Steven Kamm were the top boys.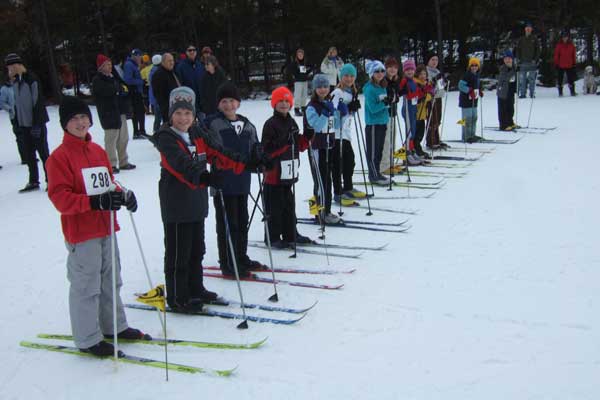 7-10 year old Junior Muffin start
Full size photos from the race are in the Muffin Race photo gallery.
Senior Muffin Race
Place
Bib
Last Name
First Name
City
CL Time
CL Rank
FS Time
FS Rank
Time

---

Female 11-13 - 8 Km
1
59
Schwab
Heidi
Williamsburg
0:20:53
24
0:18:09
24
0:39:02
2
60
Lively
Jane
Maple City
0:24:07
30
0:19:36
29
0:43:43

---

Female 14-19 - 8 Km
1
84
Frick
Maria
Traverse City
0:15:10
10
0:14:20
6
0:29:30
2
91
Hinsenkamp
Jane
Traverse City
0:18:19
16
0:15:31
9
0:33:50
3
82
VanDomellen
Kaylee
Traverse City
0:18:33
19
0:15:43
11
0:34:16
4
80
Hawke
Clancey
Traverse City
0:18:32
18
0:15:46
13
0:34:18
5
88
Tueck
Nadine
Traverse City
0:19:34
21
0:18:22
25
0:37:56
6
79
Ward
Anna
Traverse City
0:19:40
22
0:18:38
27
0:38:18

---

Male 11-13 - 8 Km
1
65
Edwards
Keefer
Glen Arbor
0:17:03
13
0:15:16
8
0:32:19
2
55
Scheiern
Evan
Cedar
0:20:15
23
0:17:25
22
0:37:40
3
67
Hallstrom
Lars
Ann Arbor
0:21:47
25
0:16:52
21
0:38:39
4
54
Klettner
Michael
Traverse City
0:21:56
26
0:17:29
23
0:39:25
5
53
Club
Ryan
Traverse City
0:24:18
31
0:16:07
18
0:40:25
6
51
Gabalis
Gage
Roscommon
0:23:05
28
0:22:22
30
0:45:27
7
52
Haig
William
Ann Arbor
0:23:23
29
0:22:23
31
0:45:46
8
68
Cook
Anthony
Freeland
0:27:00
33
0:23:11
32
0:50:11

---

Male 14-19 - 8 Km
1
85
Williams
Ross
Williamsburg
0:12:31
1
0:12:41
1
0:25:12
2
94
Harris
Ryan
Grayling
0:12:52
2
0:12:46
2
0:25:38
3
81
Brammer
Gunnar
Williamsburg
0:13:59
3
0:13:17
4
0:27:16
4
90
Padden
James
Traverse City
0:14:32
4
0:12:57
3
0:27:29
5
99
Anderson
Jonathon
Traverse City
0:14:43
8
0:13:56
5
0:28:39
6
83
Lance
Josh
Traverse City
0:14:33
5
0:14:58
7
0:29:31
7
86
Keenan
Ryen
Traverse City
0:14:33
5
0:15:56
15
0:30:29
8
89
Cover
Evan
Traverse City
0:14:33
5
0:15:57
16
0:30:30
9
92
Heimburger
Matt
Traverse City
0:14:49
9
0:15:43
11
0:30:32
10
87
Jacobson
Alan
Traverse City
0:15:12
11
0:15:42
10
0:30:54
11
100
Gabalis
Garrett
Roscommon
0:16:41
12
0:15:58
17
0:32:39
12
96
Roberts
Travis
Lake City
0:17:35
15
0:16:30
19
0:34:05
13
97
Queen
Clayton
Cedar
0:17:28
14
0:16:40
20
0:34:08
14
78
Ringwelski
Scott
Traverse City
0:18:27
17
0:15:50
14
0:34:17
15
98
Hood
Ian
Cedar
0:19:27
20
0:18:33
26
0:38:00
16
93
Stanton
Johnny
Traverse City
0:22:00
27
0:19:24
28
0:41:24
17
95
Roberts
Kyle
Lake City
0:25:34
32
0:27:09
33
0:52:43

---
Junior Muffin Race
Place
Bib
Last Name
First Name
City

---

Female 6 & Under - 1 Km
1
297
Smitz
Avery
Roscommon
2
75
Patsey
Brynn
Durand

---

Female 7 -10 - 1 Km
1
66
Hallstrom
Anneka
Ann Arbor
2
56
Klettner
Kelly
Traverse City
3
58
Schwab
Emma
Williamsburg
4
61
Bernard
Ruby
Ann Arbor
5
69
Cook
Betsy
Freeland
6
62
Lively
Anna Lou
Maple City
7
70
Taylor
Camille
Lansing
8
64
Wolfert-Parcia
Kai
Maple City

---

Male 6 & Under - 1 Km
1
71
Taylor
Drew
Lansing
2
57
Schwab
Griffin
Williamsburg
3
76
Gardiner
Alec
Grayling
4
299
Herbst
Luke
Selna
5
77
Gardiner
Ben
Grayling

---

Male 7 - 10 - 1 Km
1
298
Smitz
Grant
Roscommon
2
63
Bernard
Max
Ann Arbor
3
74
Kamm
Steven
Grosse Pointe Woods
4
73
Herbst
Alex
Selna
5
72
Herbst
Nathan
Selna

---