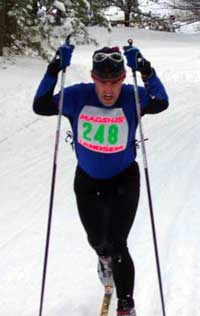 Mark Freed of Mt. Pleasant hammers down the trail.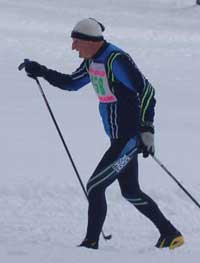 John Sturtevent of Roscommon finishing the last lap of the race.
We wanted snow. We got snow. 7 or 8 inches of it arrived the night before the Garland Grip Classic Race, forcing Larry Kinney and crew out grooming at 4:30am. Travelers from downstate who drove up the morning of the race had to fight poor road conditions.
But when we arrived, we found excellent trails conditions for the race.
The course was gently rolling terrain with a few hard curves thrown in for interest. The 2.5 km loop was double-tracked. Corners tended to get a little soft during the race (hey, there was a lot of new snow!) and the tracks on the straight-aways got harder and slightly glazed as skiers raced around the loop. Women and Juniors did two loops for a total of 5km. Men 18 and older did four loops for 10km.
The race started under beautiful sunny skies with temperatures around 24 or 25F. During the race, a mild breeze picked up, occasionally dumping snow from the pine trees on racers. Many or the 118 racers used kick wax that covered the high 20's or low 30's because of the usually high Michigan humidity in the snow. Many of the top racers spent most of their race doublepoling around the course because of the gentle nature of the trail.
Daniela Gebhart nipped Julie Houle by 5 seconds to take first amoung adult women with a time of 19:47. Last year's Michigan Cup winner Tracy Hardin took third in 20:12.
In a photo finish, Cliff Onthank out gunned junior Jesse Smith with a time of 32:48. David Mclean took third in 33:10.
Among Junior Women, Catarina Gulledge had the fastest 5km time of 22:26. Hannah Ciesla and Emily Westerman finished second and third in 23:11 and 24:15, respectively.
In the Juinor Men's 5k, Kyle Endicott was number one in 18:31, followed by Brendon Baic and Kevin Tarczon in 19:09 and 20:12.
It was a great Michigan Cup race!
Place
Bib
Last Name
First Name
City
Time
Rank
Female 13 & Under - 5 Km
1
1061
Patterson
Britta
Cadillac
0;33;27
31
Female 14-15 - 5 Km
1
1086
Westerman
Emily
Traverse City
0;24;15
16
2
1041
Patterson
Kaitlyn
Cadillac
0;26;49
23
3
1051
Timm
Alexandra
Bay City
0;27;53
25
4
1065
Dornbusch
Kara
Traverse City
0;28;11
26
5
1060
Wunsch
Adele
Traverse City
0;29;31
27
Female 16-17 - 5 Km
1
1010
Gulledge
Catarina
Roscommon
0;22;26
11
2
1087
Ciesla
Hannah
Traverse City
0;23;11
14
3
1085
Tiffany
Bridget
Traverse City
0;26;05
20
4
1081
Bradley
Sarah
Traverse City
0;26;48
22
Male 14-15 - 5 Km
1
1076
Baic
Brendan
Walloon Lake
0;19;09
2
2
1082
Brennan
Mac
East Jordan
0;21;12
7
3
237
Harris
Kirk
Traverse City
0;22;32
12
Male 16-17 - 5 Km
1
1083
Endicott
Kyle
Traverse City
0;18;31
1
2
45
Tarczon
Kevin
Traverse City
0;20;22
6
Female 18-19 - 5 Km
1
1050
Harris
Michaela
Traverse City
0;22;04
9
Female 30-39 - 5 Km
1
1054
Houle
Julia
Brieghton
0;19;52
4
2
1015
Mikolajczyk
Kelly
Willoughby
0;24;20
17
3
1058
Stevenson
Gwenn
Oxford
0;37;54
36
Female 40-49 - 5 Km
1
1008
Gebhart
Daniela
Richards Landing
0;19;47
3
2
1013
Hardin
Tracy
Cheboygan
0;20;12
5
3
1016
Baic-Berkshire
Ivanka
Traverse City
0;21;59
8
4
1020
Vajda
Judy
Traverse City
0;23;36
15
5
1044
Cavaletto
Joann
Ann Arbor
0;24;57
19
6
1055
Upton
Fran
Roscommon
0;27;37
24
7
1056
Patterson
Diane
Cadillac
0;33;29
32
Female 50-59 - 5 Km
1
1018
Rachitskaya
Olga
Russell
0;22;12
10
2
1080
Peterson
Gussie
Midland
0;23;01
13
3
1068
Dawson
Karen
Farmington Hills
0;24;46
18
4
1017
Mueller-Brumbaugh
Carole
Rockford
0;26;38
21
5
1011
McGraw
Harriet
Petoskey
0;31;16
29
6
1070
Shier
Cathy
Marlette
0;33;25
30
7
1084
Dorian
Gretchen
Brutus
0;35;18
34
8
1052
Timm
Cheryl
Bay City
0;36;22
35
9
1014
Weir
Debi
Rapid City
0;40;57
37
Female 60-69 - 5 Km
1
1074
Murray
Jean
Mt Pleasant
0;31;05
28
2
1012
Caldwell
Beth
Ann Arbor
0;35;00
33

---

Male 18-19 - 10 Km
1
46
Smith
Jesse
Traverse City
0;32;49
2
2
169
Carps
Bryan
Traverse City
0;48;29
56
3
121
Upton
JJ
Roscommon
0;52;58
66
Male 20-29 - 10 Km
1
240
Kuhl
Steve
Brieghton
0;33;13
4
2
79
Stevens
Andrew
Lansing
0;35;30
8
3
196
Zehnder
Jake
Harbor Springs
0;39;47
26
4
48
Tarnow
Aaron
0;45;06
48
5
235
Stevens
Andrew
Lansing
10
177
Goodman
Glenn
Bellaire
0;40;54
33
Male 40-49 - 10 Km
1
36
Maclean
David
Ludington
0;33;10
3
2
40
Paull
Denny
Cheboygan
0;33;23
6
3
249
Muha
Mike
Wixom
0;35;36
10
4
165
Bladel
Randal
Grainger
0;36;08
12
5
234
Berndt
Detlef
Richards Landing
0;37;37
17
6
198
Green
Jamie
Gaylord
0;38;57
21
7
16
Seamon
Michael
Mt Pleasant
0;39;15
22
8
157
Barton
Bruce
Homer
0;39;21
24
9
1
Vajda
Matt
Traverse City
0;39;40
25
Male 30-39 - 10 Km
1
49
Byar
Christian
Spring Lake
0;33;16
5
2
76
Fanslow
Dave
Ann Arbor
0;35;14
7
3
181
Smigiel
Stephen Jr
Cedar Springs
0;35;35
9
4
39
Foltz
Jonathon
Boyne City
0;36;20
13
5
73
Todd
Dell
Grand Rapids
0;36;27
14
6
78
Vreeken
Steven
Rochester Hills
0;37;17
15
7
190
Kalember
Jeff
Gaylord
0;37;44
18
8
166
Caldwell
Ben
Whitmore Lake
0;39;16
23
9
27
Smith
Bob
Roscommon
0;40;08
28
10
156
Moore
Joel
Harbor Springs
0;40;53
32
11
192
Luomaranta
Laurs
Sault St Marie
0;41;02
36
12
194
Kanaby
Larry
Bad Axe
0;41;04
37
13
74
Feldkamp
Tim
Ann Arbor
0;41;48
40
14
3
Kurz
Mark
Indian River
0;41;52
41
15
149
Burgess
Steve
Howell
0;47;26
53
16
186
Snyder
Jeff
Kalkaska
0;47;30
54
17
176
Moore
Jeff
Northville
0;47;38
55
18
248
Freed
Mark
Mt. Pleasant
0;49;00
58
19
37
Thielfoldt
Devan
Troy
0;49;57
60
20
193
Ernst
Dale
Sandusky
0;50;04
61
Male 50-59 - 10 Km
1
28
Onthank
Cliff
Traverse City
0;32;48
1
2
152
Peterson
Curt
Midland
0;36;07
11
3
6
Camp
Don
Grand Haven
0;37;30
16
4
160
Weingartz
Chris
Petoskey
0;37;52
19
5
13
Dawson
Ken
Farmington Hills
0;38;16
20
6
197
Kaltz
William
Pinckney
0;39;50
27
7
188
Cale
Douglas
Bloomfield Hills
0;40;35
29
8
173
Kessler
Randy
Milford
0;40;43
30
9
161
Kostrzewa
John
Traverse City
0;40;50
31
10
233
Fultz
Dick
Roscommon
0;41;00
35
11
179
Luce
Robin
Central Lake
0;41;30
38
12
191
Tervo
Mikko
Sault St Marie
0;41;34
39
13
189
Timm
Larry
Bay City
0;43;53
44
14
171
Hardin
John
Cheboygan
0;44;18
45
15
187
Weir
Rick
Rapid City
0;44;33
47
16
184
Rynalski
Frank
Bay City
0;45;49
51
17
178
Brumbaugh
Ernie
Rockford
0;47;05
52
18
57
Ruffner
Spencer
Tecumsah
0;48;56
57
19
183
Gambert
George
Bellaire
0;49;04
59
20
159
Johnson
Max
Brutus
0;50;30
62
21
172
Kraai
Rick
Holland
0;51;34
65
22
12
Sexton
Ron
South Lyon
0;53;04
67
23
175
Geiger
John
Saginaw
0;53;08
68
24
174
McGraw
Vaughn
Petoskey
0;57;12
70
25
236
Ahrenberg
Bill
Cheboygan
0;57;33
71
26
87
Uhrig
Wolfgang
Troy
1;19;18
77
27
153
Lannen
Charles
South Boardman
28
185
Brundage
Bill
Traverse City
Male 60-69 - 10 Km
1
155
Mendyk
Marv
Harbor Springs
0;40;55
34
2
2
Haefner
Bill
Clarkston
0;42;28
42
3
164
Johnson
Peter
Whitehall
0;43;32
43
4
182
Smigiel
Steve
Ada
0;44;27
46
5
151
Clary
Ed
Amherst
0;45;37
50
6
195
Herbers
Gary
Kalkaska
0;50;43
63
7
163
Drysdale
Ray
Albion
0;51;32
64
8
7
Wells
Richard
Hamtramick
1;01;25
74
9
41
Rafael
Garcia
Elmira
1;02;15
75
10
30
Pomeret
Ed
Bloomfield Hills
Male 70 & Over - 10 Km
1
150
Borgnes
Arne
Bloomfield Hills
0;45;16
49
2
167
Caldwell
John
Ann Arbor
0;54;36
69
3
180
Matson
William
Saginaw
0;57;57
72
4
158
Sturtevent
John
Roscommon
0;57;59
73
5
85
Stevenson
Marvin
Rochester Hills
1;11;07
76