When SOLARites, Maureen & Dave DeFrance, and Charlotte Zinkus invited me to join them the last week of January in Yellowstone, I had to really consider if I wanted to leave home during my favorite season in NW Michigan, winter, to XC ski somewhere else. Since I backpacked the John Muir Trail in Aug '08 with Moe & Dave, and have XC skied locally for 2 weekends with Charlotte over the past 2 yrs, I knew it would be a good trip. In addition, my local friends, Jocelyn Trepke, John Heiam & Lois Goldstein had also been to Arden Bailey's Yellowstone Expeditions' Canyon Skier's Yurt Camp. After considering where else I would consider backcountry skiing in winter, Colorado's 10th Mtn Division huts, Maine, New Hampshire, Utah, or Washington state, I figured there could not be another destination so unique as XC skiing among thermals, bison & other wildlife, and along the North & South Rims of the Grand Canyon of the Yellowstone River! Another factor was that Yellowstone will be implementing a new winter plan for snowcoaches & snowmobilers next winter, so I was uncertain how that would affect this opportunity. For more, see http://www.nps.gov/yell/planyourvisit/winteruse.htm.
When I started working on my plans in late Sept & Oct, I asked if the group wanted to join me in West Yellowstone & Old Faithful beforehand, since I figured I may not get back for another winter trip in the future, and wanted to see & do everything, while there. Charlotte joined me, and though it would have been anti-climatic after the Yurt Camp, I was glad we skied the famous Rendezvous Ski Trail in W Yellowstone first, where so many of my XC ski friends have traveled for racer's ski camp over Thanksgiving for yrs. In addition, Charlotte had not been to Old Faithful. We would not see any geysers from Yurt Camp, and the Upper Basin was even more spectacular in winter! Oh-la-la, pure magic, sparkling in the sun! As I discovered on my first adult trip to Yellowstone with friends, Tim & Jan Johnson, for 4 days in July '07, it really is the Disneyland of thermals, geysers, hot springs, steam vents (fumaroles) & mud pots, a geologic & scenic wonder! And, the new Old Faithful Visitor Center has some GR-R-REAT exhibits!
Since I am sooo verrry cold-natured, I was worried that I would not be warm enough to ski all day, and stop for lunch, but Mother Nature came through for me, with purr-fect Michigan weather, 20-degrees, mostly sunny & very little wind, with purr-fect snow conditions, knee-deep but easy to make turns or snowplow, when needed. In fact, I rarely sank down more than 2-4 inches with my backcountry skis, which is an advantage of being lighter, though my backpack had a lot of extra warm clothes. The only cold day was my last, minus 8 degrees at Big Sky while downhill skiing, as that HUGE storm was getting ready to blow across the country.
So, here's more on our Yellowstone adventure.
Thurs 1/20 Charlotte & I both took early morning flights into Bozeman, catching the Karst Stage bus to W Yellowstone, with stops at Big Sky. I was totally wiped out from lack of sleep, and couldn't even re-organize my BIG bag of warm clothes that night, after dinner.
Fri 1/21 We skied the Rendezvous Ski Trail in W Yellowstone first, in the morning, as soon as Charlotte got her rental skis, and perfectly groomed, but certainly not as interesting or challenging as the Vasa Pathway in Traverse City. After lunch in our room, we skied the Riverside Ski Trail, also in the Gallatin National Forest, and were lucky to see a herd of 21 bison walking in the snow downstream along the Madison River, as we skied the Up River loop. For there, we continued along the Down River loop, but lost it in the recent windswept snow out in the open meadow. As we finished our first FULL day of skiing, I realized that we could make 2 performances at the IMAX theater, so we rushed there to see Everest (excellent) & Yellowstone (could be better), only realizing between the showings that Charlotte was still in her rental boots, and had already developed blisters.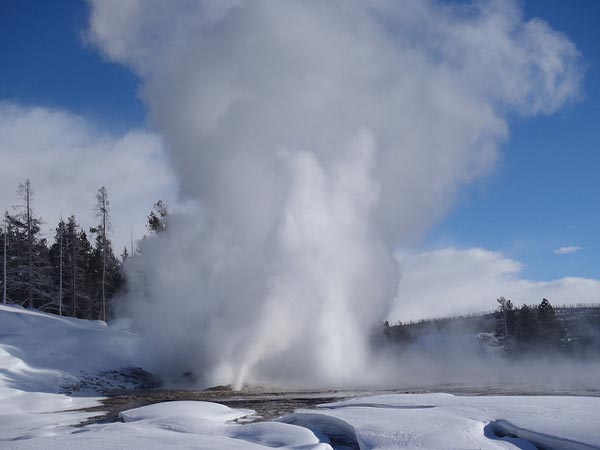 Sat 1/22 Kelly Inn, where we stayed, was so centrally located that the ski shop, IMAX, Xanterra pick-up, grocery stores, restaurants, and 2 ski trails were all within 1-2 blocks, so an easy, walkable small town. Our day started out with our first snowcoach ride with concessionaire, Xanterra, from the Gray Wolf Inn next door, entering Yellowstone National Park, following the wildlife corridor along the Madison River east, then south along the Firehole River to the Old Faithful Snow Lodge, with lots of sunshine along the way. As soon as we arrived, Old Faithful erupted for the first time. After checking into our cabin (used plastic sleds to tote our bags down the snow-covered street), we took time to enjoy the exhibits at the new Visitor Center, walk the boardwalks in the Upper Geyser Basin, watch Old Faithful erupt 2 more times, rented skis for Charlotte, and had dinner in the Obsidian Dining Room, before heading out on the snowcoach for "Steam, Stars & Winter Soundscapes" at Kepler Cascade & Biscuit Basin, under a star-filled, clear & dark sky.
Sun 1/23 Since Yellowstone Expeditions would not be picking us up til after lunch, we had planned to take the shuttle to Fairy Falls & ski back through the geyser basins, but the driver said that the locals preferred this trail, and what a jewel! First, we skied the Divide Trail through the narrow, undulating Spring Creek gorge, then out to the Lone Star Geyser on a just-groomed trail, then a gradual uphill thru the forest on the Howard Eaton Trail north of Shoshone Lake, then a gradual, winding downhill through a burn area, with views of Old Faithful to the east, and finally, winding up & down & around on the Fern Cascades Trail. After we skied back to Old Faithful, we had lunch with our guide Tom, and Moe & Dave DeFrance from SOLAR, in a yurt, then headed for Canyon in the snowcoach, driving north back to the Madison junction, continuing to the Norris junction, along the Gibbon River, then east to the Canyon Skier's Yurt Camp, between the Ranger Station and the campground. We settled in, hanging our clothes on the pegs, in our private 2-person, propane-heated yurtlets before our hearty, family-style dinner in the Dining Room Yurt.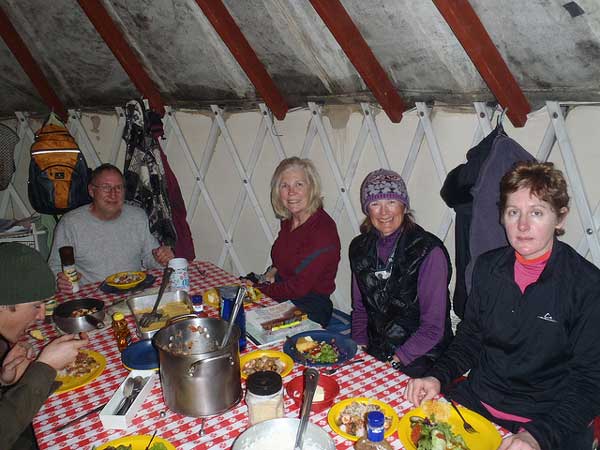 Mon 1/24 First, our guides Sarah & Tom took us (Dave, Moe, Charlotte & me) to the Upper Falls on the S Rim of the Grand Canyon of the Yellowstone River for some photos, before heading along the Clear Lake Trail to Forest Hot Springs in E Hayden Valley. We basked at lunch, sitting among the fumaroles & mud pots in the 20-degree sunshine! When we returned to S Rim Drive, we skied the groomed road to Artist Point for views of the Lower Falls, and it was dramatic, a huge, frozen column, like the waterfalls in Michigan's Upper Peninsula.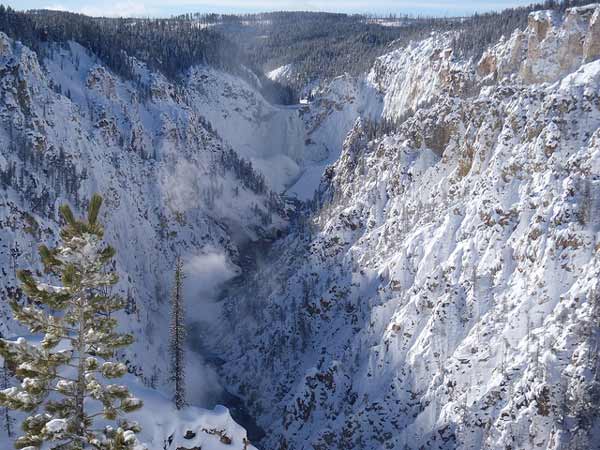 After we returned to the Yurt Camp, Dave, Charlotte & I joined Tom for a 2nd ski on the Roller Coaster Ski Trail through the Canyon Campground, where I caught air on a bump at the bottom of the steepest hill, then slalomed before a faceplant. Once we finished our ski thru the woods, we headed down N Rim Drive to the Spur Trail to Inspiration Point. From there, we skied the Canyon Rim Ski Trail to Grandview & Lookout Points, with views of Artist Point, the Lower Falls & the hill we'd climbed & descended earlier in the day. At Lookout, Sarah met us, and broke trail on the N Rim Hiking Trail along the ridgeline to the Brink of the Lower Falls, where our snowcoach was parked for a ride back to camp at dusk. What a GR-R-REAT way to start our visit, a "double your pleasure, double your fun", Sara kind of day, all warm & sunny!
Tues 1/25 Since Moe had not had a chance to ski yet in Colorado or Flagstaff, and she was trying to get over a bad cold, she went on a wildlife tour today instead. Adam drove us in Eleanor, one of the snowcoaches, up to the Dunraven Pass Ski Trail, where the road over the pass is closed to Tower for the winter. From there, guide Tom, Dave, Charlotte & I skied up to the pass & Mt Washburn trailhead, then telemarked down, trekking thru deep snow in the woods, across Sulphur Creek to E Washburn (Jimmy Hoffa) Hot Springs, where the mud pots & steam vents helped keep us warm (cloudy & windy), along with some hot tea in a thermos, during lunch. Then, we returned back thru the woods, switchbacking up, up, up to the road, skiing back down to the Yurt along the powerline at Canyon.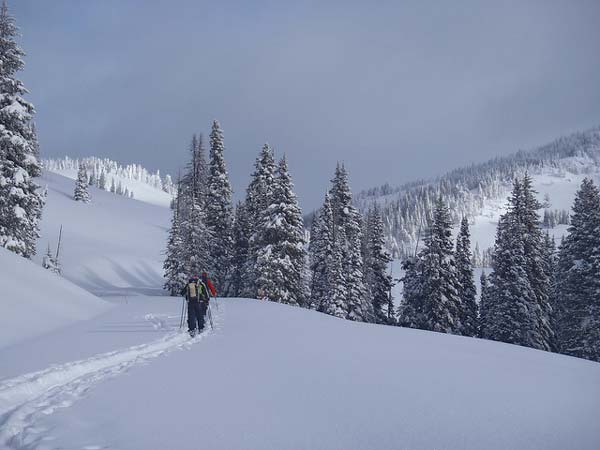 Wed 1/26 Guide Sarah accompanied Moe, Dave, Charlotte & I from the Yurt Camp to the Cascade Lake Ski Trail, where 2 pair of bison were enjoying the sunshine & some cardboard grass along the winding creek. Then, thru the meadow to the lake for lunch. At this point, since the trail had been broken, I decided to ski back on my own, enjoying a faster pace, and an opportunity to head out to Hayden Valley for an afternoon of wildlife viewing, coyotes devouring the remains of a cygnet, 2 red foxes on a ridge, and a gorgeous sunset. Almost a 3 dog day! This was the only ski that I would have skipped, since it was so flat, without much Yellowstone flavor.
Thurs 1/27 After breakfast, Adam took us on a snowcoach tour thru Hayden Valley to Yellowstone Lake, but Mother Nature didn't cooperate, since we were fogged in too much to see any wildlife. So, Dave, Charlotte & I got a late start, but the sun come out as guide Sarah led the way west from Hayden Valley into the Central Plateau along Alum Creek, among herds of bison to Violet Hot Springs for lunch & a soak. At Carcass Flat, an elk's skull, skeleton, one leg & hoof were picked clean in the snow. This was a flat, easy ski, so we had plenty of time to relax in the creek flowing out of the hot springs, in the rock bathtubs under the 3 ft waterfall. As Charlotte & I were enjoying the steam, I looked up & saw 2 bison crossing the creek below us within 15 ft. After awhile longer, I became too hot, wrapped up in my camp towel, only to see that 10 more bison were heading for the creek crossing nearby, too near for me to get back into my ski clothes. So, I backed up in my Crocs, while they made their way across the creek, the last one pausing to eyeball me. I assured him I was not a blade of grass (green towel), and this was not Barcelona or Madrid! As he ran across, I was sure glad he was not heading my way!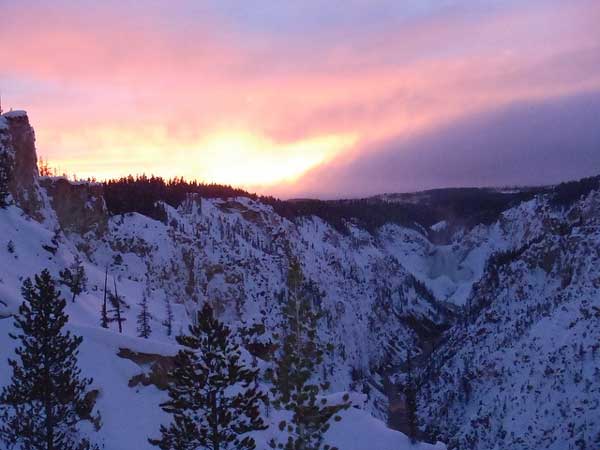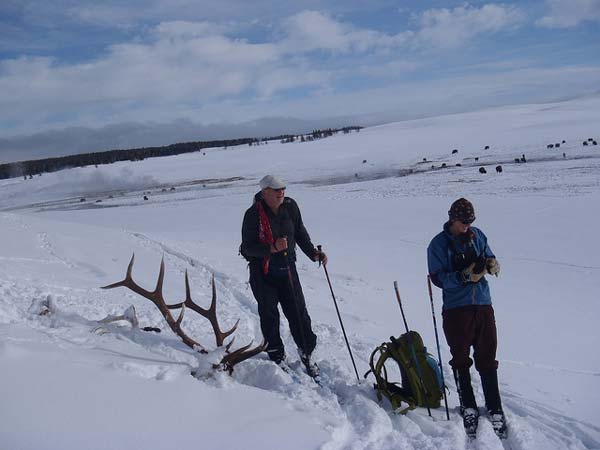 Fri 1/28 Well, we were going to run out of time, so the last 2 days were my final requests, and Kyle, our guide today, was delighted to accompany Charlotte & me to my next choice. First, we headed out from the S Rim Upper Falls again into E Hayden Valley, thru meadows & thermal areas, in the sun, to our lunch spot along frozen Wrangler Lake, where Charlotte took off one of her skis & sank down 2 ft (she's 5"10", so above her knee). From there, we continued thru meadows to the winding Sour Creek valley, til it narrowed to 12-15 ft, skiing along its edge thru the gorge, which looked like a 5-layer chocolate cake, with 5 layers of white icing each. As we skied back across the meadows & up the hill again, the afternoon sun became red, lavendar, gold & orange, esp colorful on the Washburn Range to the north, before a purr-fect tele back to the parking lot, to meet our snowcoach pick-up.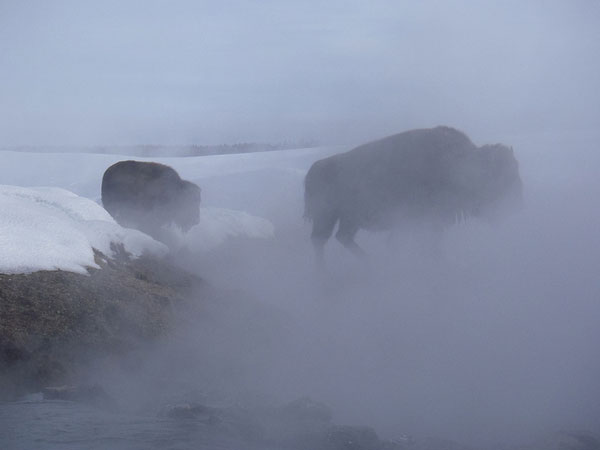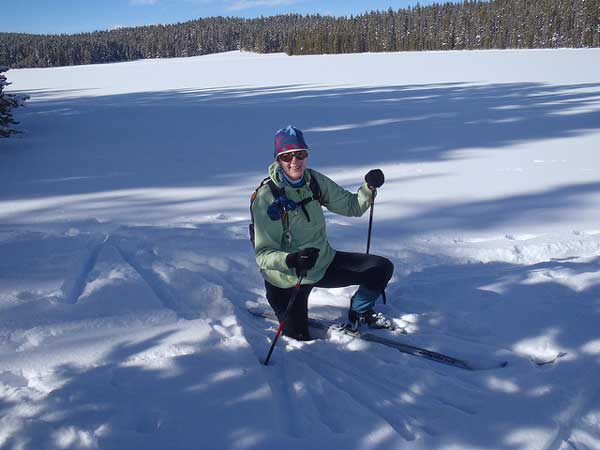 Sat 1/29 The snowcoach ride took a little longer today, thru Hayden Valley, along the Yellowstone River to the north side of Yellowstone Lake, to the Pelican Valley Trail. Arden, the owner, lead our group today & broke trail with me, while Moe, Dave, Charlotte, Paul & Dominic followed behind. We skied north thru the Pelican Creek meadow, around some bison, up, up thru the woods & meadows to Sulphur Hill, where we enjoyed a warm, sunny lunch. From here, we hiked up to the Valley of Death, surrounded by steam vents & "ghost" trees caked with frozen snow. We enjoyed views of the Absaroka Mtns to the east & the Tetons to the south. Since the trail was clearly marked, Arden allowed us to ski back on our own, and I enjoyed a faster pace down, making switchbacks in the snow thru the woods.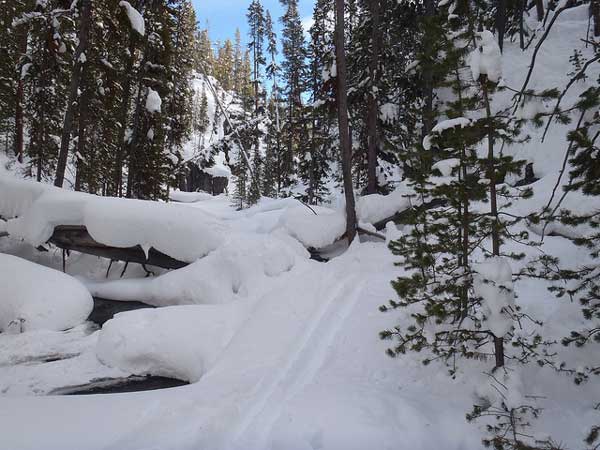 Sun 1/30 Since we weren't leaving camp til 11AM, I had a choice between a short guided ski to Crater Hills in Hayden Valley, leaving early, or I could ski Roller Coaster to the N Rim on my own, since we'd done it already on Monday afternoon. I had packed up the night before, so was almost ready to leave, but didn't want to ski so early, so off I went for my adventure, enjoying the Canyon views one last time in winter. Since the snowcoach wasn't at the Brink to pick me up at 10:15, I ski raced back in my backcountry skis on the Canyon to Lake Road. Moe had made my lunch, so we loaded up our bags & skis for our final group ski at Virginia Cascades, along the Gibbon River, between Canyon & Norris, on our way back to West Yellowstone, Moe, Dave, Charlotte, Paul, Liz & me, before going our own ways, Moe, Dave & Paul to Lamar Valley to see wolves, Charlotte flying home to Detroit, Liz & Rob driving home to northern Idaho, and me to Big Sky to downhill on Monday.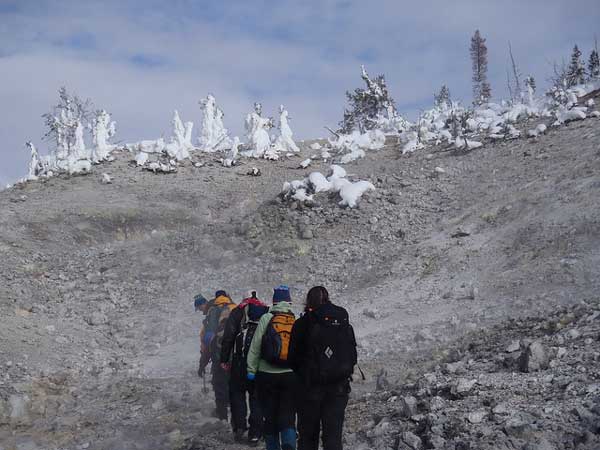 Mon 1/31 I got a good deal from the Whitewater Inn at Big Sky Resort for a room, lift ticket & rental equipment, so took the shuttle to the Mountain Village early, to get ready to tackle the slopes all day, except that it was minus 8, for my first encounter with real cold conditions. Oh well, at least I could use some of the extra heavy winter gear at last that I'd packed for this trip. Though I haven't taken the time this winter to downhill at all, since I've been XC skiing lots of km for my 50k Vasa classic race on 2/12, I remembered my early adult yrs racing my brothers & sister to make 18+ runs at Snowmass, so the challenge was still on! The sun was shining, except the slopes surrounding Lone Peak, like so many other tall mtns that attract clouds & fog so often. I skied only intermediate, blue slopes, but plenty of those on 4 of the lifts nearest to the village, for 2 convenient warm-ups of soup & hot chocolate. By the end of the day, I was ready to get my Karst Stage bus to Bozeman & some time to relax before my midday flight on Tues. Once I arrived at my airport hotel, I got a call from United, canceling my flights since Chicago was in the eye of the storm. So, after several hrs on the phone, I got a Delta flight thru Minneapolis-St Paul home, but at 6:05 AM instead. So, late to bed, early to rise, talk about being early, oh my!!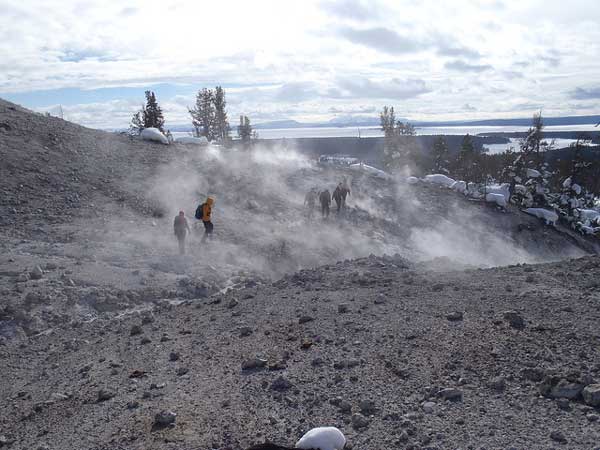 Tues 2/1 Lucky for me, a man in the lobby with a rental car was flying out on the same flight & gave me a ride at 4:20 AM, But, we had mechanical problems in Bozeman, and I missed my flight home, so had to fly thru Detroit instead, still arriving home before the storm dumped its load of snow on the rest of the country! I was blessed since United told me I wouldn't be able to fly home til Thurs, and Paul didn't get out of Bozeman til then. So, grateful to get home in my own bed, XC skiing the Vasa & Sleeping Bear Dunes since!
Thanks to Arden, Tom, Sarah, Adam, Kyle, Dominic & Erica with Yellowstone Expeditions for such a memorable adventure, and to Charlotte, Moe & Dave for including me! And, to Mother Nature for providing 20-degree Michigan weather in Wyoming, but with lots of sunshine & very little wind! Another trip-of-a- lifetime!
See more photos at http://www.flickr.com/photos/sarac_energizer/sets/72157625980355172/