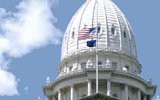 A bill introduced by introduced by Michigan Rep. Steven Lindberg (D) on February 17, 2011 would require cross country skiers to . The permit cost would be $5 per day, $20 for an annual permit, or $40 for a three-year permit, plus a $1 transaction fee for license agents. The money would go into a new state skiways fund to pay for trail maintenance, grooming and acquisition (unless a majority of the legislature voted to used it for other government spending). Skiing on a state trail without a pass would subject to a $50 civil fine.
According to a letter published in The Mining Journal, the Friends of Blueberry Ridge originally worked with Rep. Steven Lindberg in 2010 to help draft a cross-country ski pass bill to provide for more dependable funding for the cross country ski trails. That bill died when the House Appropriations Committee did not have time to consider it before the end of the legislative session.
Says the Friends of Blueberry Ridge Board:
The bill, as drafted, would require that skiers carry a ski pass, similar to a hunting or fishing license, when using state forest cross-country trails such as Blueberry Ridge. Statewide season ski passes, good at any state forest cross-country ski trail, would sell for $20, and daily passes for $5. Monies received would be dedicated to maintaining, grooming and improving the ski trails. Passes likely would be available through the many hunting and fishing license dealers throughout the state.
We have gained solid support for this bill from cross-country ski businesses, the Marquette County Commission, the DNR's Western U.P. Citizens Advisory Council, the U.P. Sportsmen's Alliance and many other groups and individuals. It is important to note that supporters include hunting and fishing groups, which historically have contributed the bulk of funds that have indirectly benefited skiers and others.
We ask you to indicate your support for this ski pass bill by e-mailing stevenlindberg@house.mi.gov.
In the past, the state has relied on the General Fund and on pay-pipe donations. The former have dried up and the latter never produced significant funds.
The bill was referred to the House Natural Resources, Tourism, and Outdoor Recreation Committee on February 17, 2011. You may track the progres of House Bill No. 4299 here.
HOUSE BILL No. 4299
February 17, 2011, Introduced by Reps. Lindberg and Slavens and referred 
to the Committee on Natural Resources, Tourism, and Outdoor Recreation.

     A bill to amend 1994 PA 451, entitled

"Natural resources and environmental protection act,"

by amending section 72101 (MCL 324.72101), as amended by 2010 PA

46, and by adding sections 72121, 72122, 72123, 72124, and 72125.

THE PEOPLE OF THE STATE OF MICHIGAN ENACT:

     Sec. 72101. As used in this part:

     (a) "Advisory council" means the Michigan snowmobile and

trails advisory council created in section 72110.

     (b) "Council" means a Michigan trailway management council

established pursuant to section 72106.

     (c) "Cross-country ski trail" means a trailway suitable for

cross-country skiing.

     (d) "Cross-country skiing" means traveling over snow by human

power on skis. Cross-country skiing does not require the use of

lifts, tows, or other mechanical devices.

     (e) (c) "Department" means the department of natural resources

and environment.

     (f) (d) "Equine access locations" means open access roads,

management roads, forestry access roads, 2-track and single-track

trails that are not wildlife paths, staging areas for pack and

saddle animals to be dropped off or picked up, and associated

wilderness campsites.

     (g) (e) "Fund" means the Michigan trailways fund created in

section 72109.

     (h) (f) "Governmental agency" means the federal government, a

county, city, village, or township, or a combination of any of

these entities.

     (i) "Michigan skiway" means a cross-country ski trail

designated by the commission under section 72121.

     (j) (g) "Michigan trailway" means a trailway designated by the

commission pursuant to section 72103.

     (k) (h) "Pack and saddle trailways" means trailways and equine

access locations that may be used by pack and saddle animals.

     (l) (i) "Rail-trail" means a former railroad bed that is in

public ownership and used as a trailway.

     (m) (j) "Trail" means a right-of-way adapted to foot,

horseback, motorized, or other nonmotorized travel.

     (n) (k) "Trailway" means a trail or other land corridor that

features a broad trail capable of accommodating a variety of public

recreation uses.

     Sec. 72121. (1) The commission shall establish a network of

Michigan skiways in the state. Michigan skiways may be located on

Michigan trailways, on trailways on state owned land, or on other

public or private land under agreement between the department and

the landowner.

     (2) While skiing on a Michigan skiway, a person 16 years of

age or older shall carry in his or her immediate possession a

valid, signed cross-country ski pass. A cross-country ski pass must

be signed by the skier across the front of the pass to be valid and

becomes nontransferable upon signing. The ski pass shall be

available for inspection by any peace officer. A landowner who

grants an easement for a Michigan skiway is not required to possess

a ski pass when skiing on the landowner's property.

     (3) A participant in a cross-country ski race or an official

school activity is not required to be in possession of a cross-

country ski pass if a special use permit authorizing the event has

been obtained by the organizers of the event or those in an

official capacity from the department or other agency with

jurisdiction over the Michigan skiway. A permit issued under this

subsection shall require that the permit holder return the trailway

and any associated facility to its original condition if any damage

is done by the permittee. Limited permits for special events may be

issued and shall require the removal of any trail markers, banners,

and other material used in connection with the special event.

     (4) As used in this section, "cross-country ski race" means a

timed skiing event organized for the participation of a large

number of skiers at 1 time over a course prepared specifically for

a ski race.

     Sec. 72122. (1) Within 90 days after the effective date of the

amendatory act that added this section, the department shall make

available for sale cross-country ski passes for use on Michigan

skiways. The department may appoint agents to issue and sell cross-

country ski passes. The department may revoke the appointment of an

agent any time. An agent shall observe all procedures established

by the department for the accounting and handling of cross-country

ski passes.

     (2) The cost of a cross-country ski pass is as follows:

     (a) Five dollars for a daily permit.

     (b) Twenty dollars for a yearly permit.

     (c) Forty dollars for a permit that is valid for 3 years.

     (3) In addition to the fee for a cross-country ski pass, an

issuing fee of $1.00 shall be charged by an agent selling the

cross-country ski pass.

     (4) An agent shall promptly remit all money received from the

sale of cross-country ski passes, except issuing fees, to the

department. The department shall forward all money received under

this section to the state treasurer for deposit into the Michigan

skiways fund created in section 72123.

     Sec. 72123. (1) The Michigan skiways fund is created within

the state treasury.

     (2) The state treasurer may receive money or other assets from

any source for deposit into the Michigan skiways fund. The state

treasurer shall direct the investment of the Michigan skiways fund.

The state treasurer shall credit to the Michigan skiways fund

interest and earnings from fund investments.

     (3) Money in the Michigan skiways fund at the close of the

fiscal year shall remain in the fund and shall not lapse to the

general fund.

     (4) The department shall be the administrator of the Michigan

skiways fund for auditing purposes.

     (5) The department shall expend money from the Michigan

skiways fund, upon appropriation, only for 1 or more of the

following purposes:

     (a) Issuing cross-country ski passes.

     (b) Maintaining, grooming, and improving Michigan skiways.

     (c) Grants for Michigan skiways sponsored by local units of

government.

     Sec. 72124. The department shall establish a grant program for

local units of government for the acquisition, development, and

maintenance of Michigan skiways. Grants shall be available for

acquisition of trailway easements but shall not be used to acquire

any land in fee title. A local unit of government applying for and

receiving a grant under this section shall operate the Michigan

skiway for 1 year following the expiration of its last grant. The

department shall issue grants for Michigan skiways sponsored by

local units of government based upon criteria established by the

department.

     Sec. 72125. (1) A person who violates section 72121(2) is

responsible for a state civil infraction and may be ordered to pay

a civil fine of not more than $50.00.

     (2) A person who knowingly makes a false statement in an

application for a cross-country ski pass is responsible for a state

civil infraction and may be ordered to pay a civil fine of not more

than $50.00.