WinterSonnenwende rescheduled to Feb 18, 2012
Tue, Dec 13, 2011 - By Chris Dandeneau
The race date for WinterSonnenwende (Winter Solstice) has been approved by The Michigan Cup Board and Michaywe' to host this race on Saturday, February 18th, 2012. The Michigan Cup race will remain a 17km Freestyle event. This will fit well with the Hanson Hills Classic being held the following day and those looking for a tune up race for the Birkie.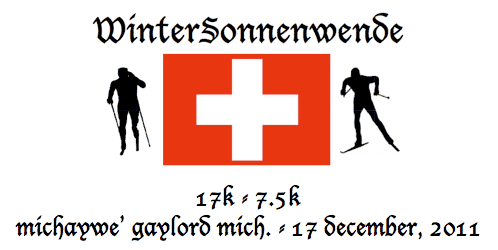 Originally scheduled for the 3rd Saturday in December, lack of snow required the event to be rescheduled. The event will feature a 17 km Freestyle Open division & Michigan Cup points race, a 7.5km Classic open division race, and a 2 km kids Lighted Lake loop on friday night during registration & packet pick up.

The 7.5km Classic is a one loop course with 64 meters climbing. The 17km Freestyle event features a lollipop style course which takes skiers out on the same course as the classic - only they will do two 4.85 km loops before returning to the finish area - a total of 177 meters of climbing with some screaming down hill's.
This is a technical course, narrow in spots, but will offer sections of wide areas to really get the lead out and make some moves. The course will accommodate a wide 1km start loop on the Golf Course - to spread out the pack before skiers head into the trail system. There are also several sections that allow for passing and hill climbs to mix up placement a bit.

Sincerely yours,
Chris Dandeneau