Tour de Ski
Randall vaults back to fourth in Tour
Thu, Jan 5, 2012 - By USSA
TOBLACH, Italy (Jan. 4) - A day after dropping to seventh in the Tour de Ski, Kikkan Randall (Anchorage) came roaring back with a hard fought second in the stage six freestyle sprint at the Tour de Ski in the northern Italy village of Toblach. Randall survived a high traffic semifinals to then square off against Tour leaders Justyna Kowalczyk and Marit Bjoergen, finishing behind Bjoergen and vaulting all the way back to fourth. Bjoergen narrowed the gap to leader Kowalczyk with the win. Swiss Dario Cologna held the Tour lead as Russian Nikolay Morilov won the stage. A pursuit is on the schedule for Thursday before the Tour heads to the finale this weekend in Val di Fiemme.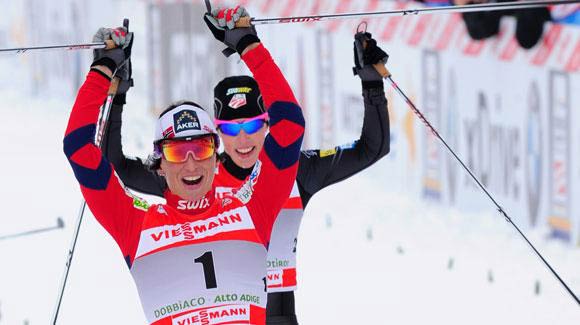 HIGHLIGHTS
Kikkan Randall vaulted from seventh to fourth in the Tour de Ski with her second place finish in the freestyle sprint.
After a brief challenge from Norwegian Heidi Weng in the quarterfinals, Randall (who qualified third) cruised to a 1.9 second win.
In the semifinals, Randall found herself in fourth place and boxed in through the mid-section of the race. She was able to finally break free and take second behind Slovenia's Vesna Fabjan to make the final round.
In the finals, Randall waited patiently while Tour leaders Justyna Kowalczyk and Marit Bjoergen battled. Randall made a move on a fading Kowalczyk on the final hill but could not catch Bjoergen.
Randall is now 1:18 behind Norway's Therese Johaug for third and has a 28 second margin over fifth place Charlotte Kalla of Sweden.
Holly Brooks (Anchorage) qualified for the heats in 28th but went out in the quarterfinal heat won by Randall.
Kris Freeman (Andover, NH) and Liz Stephen (E. Montpelier, VT) did not qualify for heats.
A pursuit is scheduled for Thursday with 15k for women and 35k for men.
QUOTES
Kikkan Randall
My strategy in the semifinal was to try to sit back to save energy and put on a strong finish. It was a little risky being back in the pack but I stayed calm and felt confident in my final stretch and it worked out.
in the final I hoped that Bjoergen and Kowalczyk would make a big move. When they did I was in a good position to go with them. Unfortunately I couldn't get past kowalczyk before the final hill and had to go around, and missed getting in Bjoergen's draft. Her skis were running well and I was unable to bridge back up.
Overall I'm very satisfied with today's race. It was a challenging course and with five races in my legs already, I was happy to put together four solid rounds and be on the podium.
TV
7:00 p.m. and 10:00 p.m. ET - Universal Sports TV (available on DirecTV)
SCHEDULE/RESULTS
Tour de Ski Schedule
Dec. 29 – Oberhof, Germany – Prologue - 3.75k/2.5k FS
Dec. 30 – Oberhof, Germany – Pursuit – 15k/10k CL handicap start
Dec. 31 – Oberstdorf, Germany – Sprint – 1.2k/1.2k CL
Jan. 1 – Oberstdorf, Germany – Skiathlon – 10+10k/5+5k CL/FS mass start
Jan. 3 – Toblach, Italy – Distance – 5k/3k CL individual start
Jan. 4 – Toblach, Italy – Sprint – 1.2k/1.2k FS
Jan. 5 – Cortina-Toblach, Italy – Distance – 35k/15k FS handicap start
Jan. 7 – Val di Fiemme, Italy – Distance – 20k/10k CL mass start
Jan. 8 – Val di Fiemme, Italy – Final Climb – 9k/9k FS handicap start