August's Log
The highway was smooth and the going fast until I hit the pothole of travel in August. August didn't quite turn out the way I planned it - unexpectedly, my company has been sending me from Michigan to Florida every week. Every week I drive to the airport at 6:30pm and get to the hotel at 1:00am (assuming the plane is on time). Then it's up and to work by 8:00, work till 6:00 to 7:30 pm, have dinner with colleagues as necessary, work some more at the hotel, hit the sack by 10:00pm. Repeat the next day. Leave the hotel by 7:00am the the third morning for the airport, arrive back at Detroit Metro by 12:30, grab a bite at Taco Bell, drive to the office, work till 5:00-6:30, then go home to the wife who hasn't seen me for three nights.
Not much time for training. I have managed to sneak in at least one training session per trip - usually running and usually an hour or less. One trip I also managed to get in a weight session at the local Bally's Fitness.
Hill sessions in Florida are problematic: there are no hills. Thank God for treadmills with power inclines: at least I can simulate a hill.
The Stats
During the five-week period from July 28 to August 31, I logged only 32.8 hours: 4.3 hours in the weight room and a measly 28.5 hours rollerskiing, running, and biking. That's only 6.5 hours per week! And I was on a great roll in July!
Here's the breakdown by training zone:
Zone
Hours
Percent of Total
1
9.7
34
%
2
14.8
52
3
2.5
9
4
1.4
5
5
0.1
0
28.5
100
%
Time Trials
I had two time trials for PRs in August. The running time trial went very well - I maintained a fairly consistent heart rate the entire time, even though my route has five big climbs, four fast descents, and short connecting flats. As you can see below, I started a little fast, pulled back some, then finished strong on the final uphill. (warm up and cool down is included in the graph)
August's Running Time Trial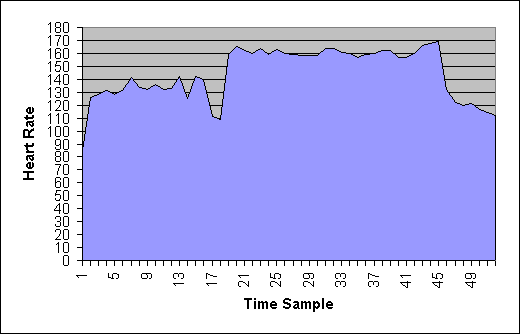 The rollerski time trial was less successful. First, I hadn't fully recovered after my two-hour distance session the day before. Second, I started out way too fast, probably because Ryan Robinson was trying to keep up with me and I wanted to crush him. Lesson learned: run your own race. Look at the rollerski time trial heart rate graph below. I start out too fast and my heart rate gets slower the longer I race (warm up and cool down are again included in the graph):
August's Rollerski Time Trial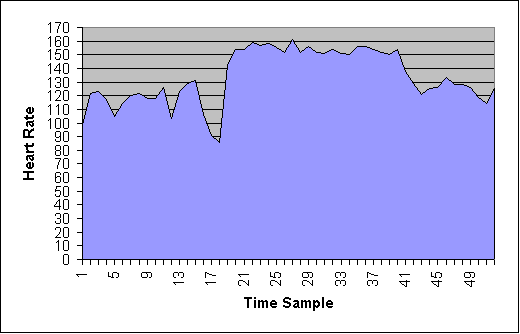 The next time I go for a rollerski PR (October), I'll make sure I start no faster than my average heart rate for my entire August time trial. Better to finish strong...
Injuries
Well, my right ankle is still weak, but I've been running on it. I found an old pair of orthotics that I had made years ago and they greatly stabilize my foot. I still need to get them replaced - they're cracking across the ball.
I've been doing several exercise that have been stabilizing my shoulders as well. Each of these exercises is designed to strength the rotator cuff. Working so far...
September's Training Plan
The September training plan covers the 4 week period of September 1 through the 28th. Two quality sessions a week, but the time trial is easier, really more of a pace session over the time trial route.
I've optimistically planned that I'd be out of Florida by mid September, but that looks unlikely now. My goal will be to do at least all the quality sessions, a strength session, and a long distance session each week. If I can add more sessions, great. If I can't, oh well, that's life. The traveling is certainly taking a toll with Jill - I have to make sure I'm home more often and spending more time with her to make up for all the travel.
I hope your interval training is going well. You are doing intervals, aren't you?