July's Log
Over 33 hours of training were logged during the four week period from June 31 to July 28: A little less than 7 hours of strength training and over 27 hours of biking, running, or rollerskiing. Here's the breakdown by training zone:
Zone
Hours
Percent of Total
1
11.3
42
%
2
12.6
46
3
1.8
6
4
1.5
6
5
0
0
27.2
100
%
Still not much training above Zone 2, but I expect that to change in August.
I added a final uphill to my running time trial course. Nothing like finishing off with a nice long uphill. I'm pretending it's the top of the mountain finish the Boyne Highlands Classic race...
Practicing Technique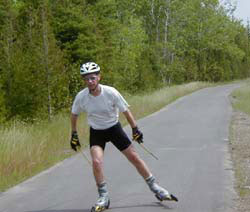 Rollerskiing over July 4th on the new bike path between Charlevoix & Petoskey.
I've been working pretty consistently to improve my technique ever since "flaws" were identified at the June Training Camp. Most of this as consisted of trying to initiate my poling with an ab crunch in V2 and V2-alternate and trying not to land on the outside edge during any skating technique. I think I'm doing much better, although I want to take a video camera out in August to see for sure.
Did not do much V1 in June, so didn't get a chance to practice better V1 technique. I'll have to make a bigger effort in August.
Injuries
Alas, on the last running interval session of the month, I stepped on a rock and twisted my ankle during warm up. As I said in my log entry for the day, "So I did what any self-respecting athlete would do: kept going, waited for the endorphins to kick in, and hoped I didn't do anymore damage".
My right ankle has always been weak and I have a strong tendency to pronate. While he was running behind me during one of my trail runs, Dr. Bill noticed and thought I must have injured it at some point in my past.
I managed to dig up some old orthotics I had made many years ago. I'm going to try running with them for awhile and maybe see about going to a running doctor to have new one's made.
Oh, things would be so good if I only had one injury, but no, I have another. My shoulders have always been "loose," particularly the right one. The right one's been broken twice (once doing stunts downhill skiing when I was 16, another time in a road bike crash when I was in my early twenties). And the doctors have told my in the past that the rotator cuff is damaged.
Well, I'm getting some nasty pains when I lift certain weights or even if I just push something the wrong way. When I had some similar pain a few years ago, I was given some shoulders exercises to do. They helped greatly and I stopped doing them. Guess it's time to start up again. My preference is first do these exercises and see if they work before I reduce the amount of weight work I do...
August's Training Plan
The August training plan covers the 5 week period of July 28 to August 31. There are two quality sessions a week, just like July, but they get harder. For example, both the running and rollerski time trials this month are "full out, go for PR" sessions. That should increase the time in Zone 4!
I continue doing strength work, but I'm trying to add more explosive foot work during running sessions (moosehufs, plyometrics, etc.).
First quality session? A running time trial, just a week after I injured my ankle. I may postpone the time trial or turn it into a classic rollerski time trial instead.
But the plan is coming under some stress. Shortly after I created my August plan...
...my boss asks, "Can I see you for a few minutes?"
"Can you fly to Florida?" Yes. "Can you leave today?" Uh, yes.
My company just acquired a smaller company in Boca Raton, Florida, and I'm going to be the Information Technology department's liaison with the IT staff at the new company. My job is to help them make the transition into our company's culture and keep the staff productive. I'll be flying to Florida for a day or two (or three) every week for at least the next month, or two, or three. This past week, I flew out Monday night, arrived at my hotel at 1:00am in the morning, got to sleep by 2, was up at 6:30. Worked the day and the evening. Crashed at the hotel. I did get a short run and spent a little time in the hotel weight room on Wednesday night, before returning to Michigan on Thursday.
How is this going to impact my training? It looks like I'll be losing training hours unless I can figure out a way to schedule my time differently - and I can't take any hours away from my home life. The last thing I want to do is make my wife unhappy!
So stayed tuned...