We're three Michigan Cup races into the season. Last weekend's races were postponed a few weeks and this coming weekend's race was just cancelled. All our snow melted in southeast Michigan this week from 50 degree temperatures and rain - just before temperatures dropped back into the teens. We now have semi-skiable dusting of snow if you know where to look for it.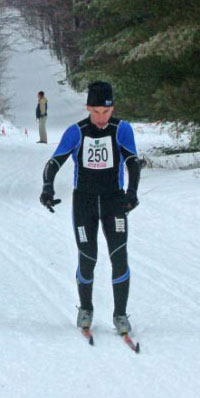 Boyne Highlands Classic
Lap 1

This is a good opportunity to reflect on how racing has gone so far and how I'm taking advantage of the cancelled races and poor snow conditions.
Breakthrough Freestyle Race
Last year was my best season ever. This season looks to be even better.
It started out with a 5th at the Holley Cup 10 Km Classic Race. I had a great race, felt in control the whole time, and recovered quickly if I pushed too hard. It wasn't a big field, but I beat people that I thought I'd have more trouble with.
At the Chestnut Valley 11 Km Freestyle, I finished 12th, about 8% slower than winner Milan Baic. But what an improvement over last year's 24th and 18% behind! Freestyle has always been my weakest technique so this was a breakthrough race for me.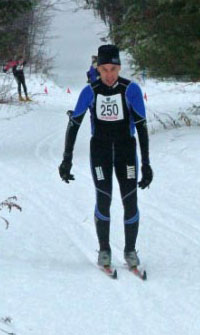 Boyne Highlands Classic
Lap 2

It was with some trepidation that I entered the Boyne Highlands 12 Km Classic Race on a very hilly course the day after the Chestnut Valley Freestyle. In the past several years when I raced two days in a row, I finished substantially off pace the second day - I could never recover from that first day of racing. I definitely suffered on the uphills but when it was all said and done, I had finished 9th overall. Another small field, but I beat people who usually crush me in day-2 races.
I feel different racing this year:
I can get my heart rate up higher.
If I go too hard, I recover more quickly.
I can do two days of hard effort in a row much better than before.
I feel better after the race. I have energy left over to keep on skiing.
I'm faster!
Those intensity blocks ARE paying off!
Race Season Training Plan
I have two specific goals for my training during race season. The first goal is not to go into a race tired. I want to make sure I'm recovered from any training by race day. The second goal is to maintain and - if possible - increase my fitness.
The first goal is pretty easy - just don't train too hard in the day or two leading up to the race. The second goal is the more interesting goal, and one I haven't ever focused on before. In weeks bracketed with races on both weekends, I try to get in at least one VO2 Max interval session, maybe two if I feel up to it and conditions are good. If a weekend's races are cancelled, I'll add a pace or long distance session over that weekend.
Or I'll add a mini intensity block!
When last weekend's Michigan Cup Marathon and Hanson Hills Classic were cancelled, I decide to put in a three-day intensity block. I did a 4 x 4:00 mostly uphill classic interval session on Thursday, a 4 x 4:00 uphill running interval session on Friday, then a 5 Km fun race with the team on Saturday morning, followed by a couple 3 minute intervals as part of a sprint relay fun race. All these sessions were done at 90-95% of my max heart rate. Of course I was dead on Sunday and took the day off, but that was part of the plan.
This weekend, I'd like to get in a long, hard distance session. I'm not sure we'll have good enough snow down here to do it. Although I skied yesterday evening on the "heavy frost" covering the Kensington Metropark Golf Course fairways, the bright sun today may degrade conditions. The plan now is to do a day-trip to snow tomorrow tomorrow: a 2.5 - 4 hour road trip, back in time for Sunday dinner.
I need a long ski to prepare for the upcoming marathons. I'd really like to improve on my less than stellar performance at last year's White Pine Stampede. A three-hour ski in Zone 2 and 3 should help out substantially.
No snow? It's off to the gym or an outside run/ski-walk. Rollerskiiing conditions have not been very good, but I've rollerskied in January and February in past years.
Team Benefits
Belonging to a team has been a great benefit to my training. Knowing your teammates are going to be out skiing pushes you to get out there with them. I had not planned to ski yesterday until Ken Dawson sent an e-mail asking if anyone wanted to meet him. The marginal conditions turned out to be better than expected and we had a really good ski!
I had similar experiences with other members of the team in the past two weeks. Having others to ski with is particular nice when skiing after work in the dark - it's much easier to get motivated if you're with others!