A spectacular long distance session followed by a great time trial were the highlights of August. Interval sessions went OK - I didn't have time to do as many as I wanted and they all felt pretty hard.
For my longest distance session, I really wanted to work on upper body strength, so it was a doublepole and doublepole-kick-only classic session. Lasting 3 hours and 46 minutes, it was almost non-stop and almost entirely in Zone 1. I was very careful not to go hard and even set my heart rate monitor to beep at me if my heart rate rose above 70% of my max. Why? The goal of a long distance session (also called "over distance" by some) is to develop the fat metabolizing energy system - getting your body to burn fat more efficiently. It also trains your energy systems to burn more fat sooner during a race, saving glycogen. Two requirements of long or over distance sessions: they must be 90 minutes or longer and they must be easy.
The time trial was almost two minutes faster than last month. I skied at a higher heart rate, but last month I don't think I could have skied any harder than I did. I was very pleased with my performance.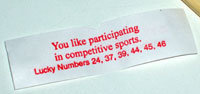 Who? Me?

Training Foods
I've used PowerBars, PowerGel, Cliff Bars, Gu and occasionally other products while training and racing, but have pretty much decided that products from E-Caps work best for me. I use their vitamin supplements (Premium Insurance Caps and Race Caps Supreme), their during-exercise energy drink (Hammer Gel) and one of their recovery products (Hammer Whey mixed with Hammer Gel - yucky taste).
Recently I've been experimenting with some of their other products. First, I'm trying Heed, a powder alternative to Hammer Gel. It's supposed to be less expensive per use - you know that all cross country skiers are cheap and I'm a cross country skier!
There's been some research that suggests that the body benefits from ingesting a little protein during workouts of two hours or longer. Since some of my session are longer than two hours - as are marathon races - I've begun experimenting the E-Caps' Sustained Energy product that combines protein with carbohydrates.
Finally, because Hammer Whey with Hammer Gel tastes so bad, I bought E-Cap's new Recoverite post-exercise recovery powder (mix with water) to try - and it tastes great!
The real lesson here is that I'm trying these products well before race season to see if they help me or cause problems. I'm using them during distance session, time trials, and interval sessions, easy sessions and hard sessions. Before I race with any of them, I want to really understand them.
Remember rule #1: Don't do anything new in a race. Try out everything first well before your first race.
August 2005 Plan Execution

Training Goal
Number of sessions planned
The Reality
5 mile classic rollerski time trial at 90% MHR
1
24:08, almost 2 minutes faster than last month's 26:04 at around 85% MHR
Anaerobic Threshold (AT) intervals
(85-90% MHR)
6
3
V02 Max intervals
(90-95% MHR)
6
4
Speed intervals
10-20 second all out sprints - but no longer!
A few, as part of distance sessions
A few, but not as many I as I should have done
Distance sessions
Whatever I have time for
Ten sessions, with a 3:46 long classic distance session in Zone 1 the highlight of the month - it felt great!
General strength
1-2 per
week
4 core session, 4 general strength session, 2 specific strength (bounding) sessions, place several distance sessions with doublepole-only or skate-no-poles segments.
September Plan
September is a big interval month for me. The number one focus is to have a long and hard intensity block during the first half to the middle of the month. As I write this, I've completed three interval sessions in the last four days, and plan on a forth tomorrow morning. I'll be doing intervals for the rest of the week in a two days on, one day off pattern. Somewhere in the middle of it, I'll replace one of the interval sessions with a 5-mile time trial at race pace.
This is going to be a hard block. Once it's finished, I'll take it easy for a couple days.
I'm adding one new interval session this month: a lactate tolerance and recovery interval set. These intervals will be shorter and pretty fast, with a rest time no longer than half the length of the interval (e.g., a 1 minute interval with a 30 second rest). I'll use this session to train for more efficient lactate removal.
So that's the news. How goes you're training? Still pedaling or paddling, or have you started more specific training yet?
September 2005 Plan

Training Goal
Number of sessions planned
5 mile rollerski time trial at race pace
1
Anaerobic Threshold (AT) intervals
(85-90% MHR)
2
V02 Max intervals
(90-95% MHR)
10
Lactate tolerance & recovery intervals (1 - 3 minute intervals, short rests)
1
Speed intervals
10-20 second all out sprints - but no longer!
A few, as part of distance sessions
Distance sessions
Whatever I have time for
General strength
1 per
week
Specific Strength
3