I'm pretty darn happy with my October training. I had my most successful intensity block ever - hard, but the intervals felt good, and the sets toward the end of the block were as strong or stronger than at the beginning. I've also figured out - finally, after two years - not to expect any great performances for the entire following week.
October's focus was on upper body strength: four doublepole intervals sessions, a 5K doublepole-only rolleski leg during the Team NordicSkiRacer.com Duathlon, 20 minutes of single-sticking (arms-only) during a distance session, lots of doublepoling during classic distance sessions, and lots of abs, arms and shoulder strength work.
You haven't lived until you're tried single-sticking up a hill without using your legs! The first 10 minutes of my 20 minute session were hell, particularly when an uphill came along. Eventually, I got into a rhythm that include using my abs to initiate the pole plant and life got easier. I even sprinted the last 5 minutes!
I did get a minor bug during the month (Jill got it, too) that caused me to lay low for a couple of days and eliminated some of the intervals I had planned. In fact, missing a couple doublepole intervals sessions led to the decision to doublepole the Duathlon rollerski leg.
October 2005 Plan Execution

Training Goal
Number of sessions planned
The Reality
5 mile rollerski time trial at race pace
None
1 - 5K Run / 5K doublepole Duathlon
Anaerobic Threshold (AT) intervals
(85-90% MHR)
2
(both doublepole-only)
3
(all doublepole-only)
V02 Max intervals
(90-95% MHR)
10
(4 doublepole-only)
7
(1 doublepole only)
Lactate tolerance & recovery intervals (1 - 3 minute intervals, short rests)
1
None
Speed intervals
10-30 second all out sprints - but no longer!
2
2
Distance sessions
Whatever I have time for
6, including 3 sessions over 2 hours
General strength
4
5 sessions core & abs
3 sessions strength
Specific Strength
3
2 dedicated sessions, plus specific strength during distance rollerski sessions (e.g., skiing without poles, 20 minutes of single-sticking, etc.). Also doublepoled the entire rollerski portion of the Duathlon for additional specific strength.
Some interesting reading
USSA Cross Country Skiing Sprint Coach Vidar Loefshus wrote a great article on TeamToday.org called "Olympic Sprint Training" that really resonated with me. I was intrigued by his thoughts on strength training. First, Loefshus says, "Generally speaking strength training and power development can assist in two areas: performance and prevention." Early in the season, I pared down my upper body strength training to just doing dips and pulldown exercises - focusing on performance. But my shoulders began to hurt. I had to start working on rotator cuff and rear deltoid exercises to balance out my muscles - I added a focus on prevention. Result? Shoulders no longer hurt and I prevented further injury.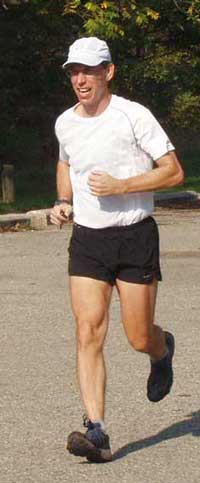 Entering the Duathlon transition area after the 5K run, Duathlon #1.

Second, Loefshus said the team was in it's fall "power-velocity phase" so they could "turn the strength into quickness (speed) and power." In the beginning of October, I felt strong, but didn't feel I had is much snap. To increase quickness and explosiveness, I did a couple speed sessions and also started bounding and plyometrics. I expect to do more in November.
Finally, Loefshus states:
"We always do intervals and strength on the same day, intervals in the morning and strength in the afternoon. This is because both sessions are hard sessions. We keep the easy days easy and the hard days hard to ensure max recovery."
I really like his thinking! A few years ago, a coach (not Torbjorn) recommended I stop doing intervals and strength training on the same day - it was too hard. But I felt that a strength session following an interval workout was very successful for me - my body was loose and warm and ready to work hard again. And it let me have an easier session the next day. Since reading this, I feel vindicated - and no longer feel guilty when I head to the gym after an interval session.
I also like the idea of keep hard days hard, and easy days easy. Too many skiers go out at the same pace everyday, never pushing their body to a new level. But pushing hard one day means letting it recover the next.
Read the Loefshus article - I only touched on a small fraction of the goodies hidden within. And even though its about sprint training, the vast majority applies to distance skiers as well..
November Plan
Thanksgiving is coming up. I not planning on getting any great training in over that weekend - I'll be in Irvington, NY attending my sister's wedding. Hopefully I'll at least get in a short run or two in plus a strength session. No West Yellowstone Camp this year...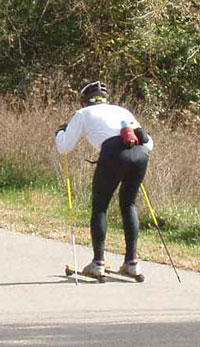 Leaving the Duathlon transition zone for 5K's of doublepoling, Duathlong #2.

November also has another intensity block (6 interval sessions in 8 days) and an upper body strength block (doublepole interval sessions). I'll increase the number of explosiveness exercises (bounding and plyometrics) and step up the speed sessions.
We've had great weather so far - it's supposed to be in the 70's tomorrow! - but it's got to end soon. November to me is training in the dark, in the cold, in the rain. I hate November. But I don't want to lose any of my hard-earned gains. If the weather is really bad, I'll head indoors to the treadmill or the weight room or my Armit down in the basement. I also have a cheap plastic rain suit I wear when I'm stuck in the rain.
I'm also resigned to the fact that cold weather makes everything slower. The distance I go during a 4 minute interval is shorter now than in September because my rollerski wheels don't roll as fast. It frustrating - it feels like I've detrained because I'm not going as fast or as far, when the reality is it's simply a function of it being cold outside. (That's my story and I'm sticking to it....)
My headlamp is charged for night-time rollerskiing. How are you handling the dark?
November 2005 Plan

Training Goal
Number of sessions planned
Time trial at race pace
1 - Team NSR Duathlon
Anaerobic Threshold (AT) intervals
(85-90% MHR)
2
(both doublepole-only)
V02 Max intervals
(90-95% MHR)
9
Lactate tolerance & recovery intervals (1 - 5 minute intervals, short rests)
1-2
Speed intervals
10-30 second all out sprints - but no longer!
2-3
Distance sessions
Whatever I have time for
General strength
4
Specific Strength
4